Bad weather, bad snow, bad choice is how I would summarize this day. It was my fault though, the forecast was not encouraging but I wanted to give it a chance anyway. I went up to the Gorges du Cians and started skiing from Beuil (1450 m) on a thin layer of snow, with the hope to reach the Mont Mounier (2794 m). I entered into a thick fog and clouds at around 1800 m and had to stop every 10 meters to check the route on the GPS. After an hour of this game I finally turned around at the Mont Demant (2440 m). The descent with no visibility and on a melting snow was rather… interesting too. So I went back home and left for a 11km uphill running… but finished under a heavy and cold rain, it was not my day I guess.
Distance: 12 km, ascent: 940m / descent: 940m.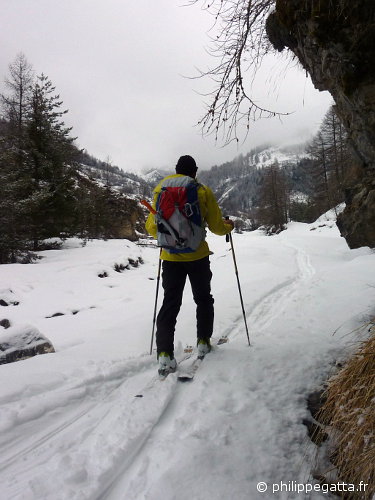 Skiing toward Col des Moulines (© P. Gatta)
Description: park 900 meters after Beuil toward col de la Couillole at the signpost 41. Ski toward Col des Moulines (45) and turn Northwest toward Mont Demant (47).