Gobi Race: 5th Stage. 3rd overall!
We had the long stage yesterday… Today we woke up at 5am, after another cold night. We prepared our kit and got on the bus at 7am for a 2 hour drive to reach the start. I ate the breakfast in the bus and tried to get some rest. We finally started the 75.4 km stage at 10am and it was already hot. I started slowly running with John. We caught up Anne-Marie and Justus right after CP2.
The scenery on this section was very nice, wide open view over the mountain range and high peaks (over 7000 m I guess). John was a bit faster and left us. Then the weather became stormy, we could see the rain in distance and then the wind and stand storm picked-up. We were a bit worried when we arrived at CP5 because there was nasty twisters just a few km away and we were on flat terrain with no shelter whatsoever.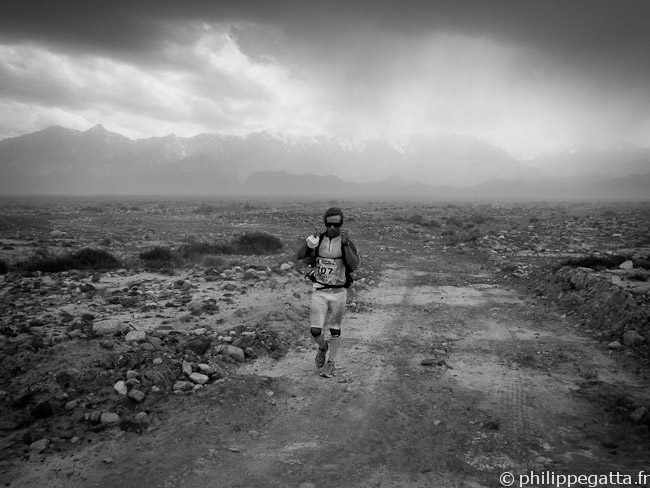 Gobi March: Justus in the sand storm (© P. Gatta)
Then we had a long long straight cross country trail. For some reason my legs accepted to accelerate the pace. I left Anne-Marie and Justus who both were a bit sick. I passed John and continued in a major sandstorm. It was hard to find the trail as we could see one marker at a time in best case. At some point I could barely run against the head wind, but then I saw two women working on a field and I told to myself "shut up, stop complain and run". I passed the last check point in 60km/h wind at least, fortunately it was coming a bit from the back. I took some extra water just in case I would get lost, constantly keeping an eye on my Suunto watch to check the distance. Then I saw the finish line, so happy to finish 3rd in 8h38!!
Thanks Mo and Vincente for your cheering at the end. We are resting today in a fabulous camp site, with an amazing view. Tomorrow we have 15km to go… 15km away from food, shower…