Firstly, thanks again for all the email support!!
Yesterday morning was uncertain because of my right heal and because of the pain in my muscles. I could barely walk out of my tent in the morning. So I was not sure about which strategy to adopt for the race. It was tempting to go fast during the three first hours before it gets to hot but I was afraid to be too slow afterwards. So I decided to start not too fast, keep a study 8km/hour and more important, not pay attention to others' pace, even the ones chasing me. I could keep this pace (thanks again to the Suunto Pod) for the first 44km or so. I had to stop to change the bandage on my foot and a doctor gave me some pain killer again.
I was 6th already at that time, Jude was in front of me but I couldn't catch him. I decided to control the race to not be caught by the guys behind. Then we had a long period of strong head wind on a monotonous (e.g. boring) trail that I couldn't run on. When the wind calmed down a bit I resumed running to keep the guys behind away. I finally did more than 40km alone, arriving after the sunset. After 12hr of race the first one behind me was just two minutes behind so we had to push it to the end. I am happy with this time as I couldn't have done much better for a 86km. I lost 1 rank overall, finishing 6th, one hour behind Jude and one hour in front of Shiro – this is consistent with the rest of the week. At the end we are three french in the top six!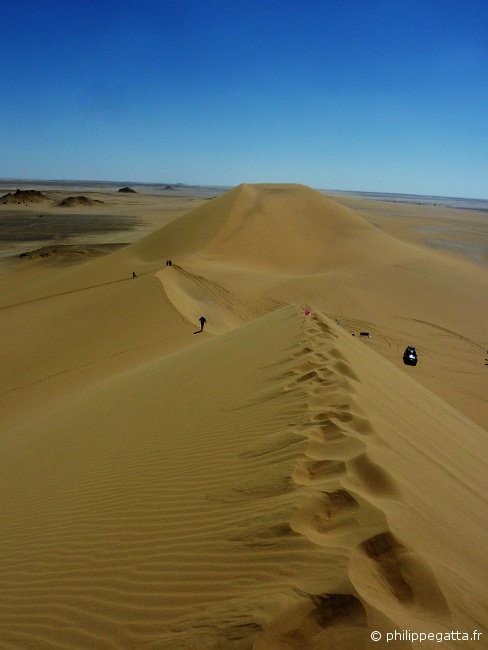 Sahara Race: big dunes in the stage 5 (© P. Gatta)
I think I broke my mp3 player (the one who did Everest) and perhaps the camera too. Heat and sand are not good for electronic. But I think I had the time to take some cool shots and enough to make a short video.
I couldn't sleep much last night as people were arriving progressively throughout the night. The last ones arrived at around 10:30am this morning, after 27 hours spent in the last stage!! Very impressive as some of them were injured and exhausted but didn't want to give up. Respect.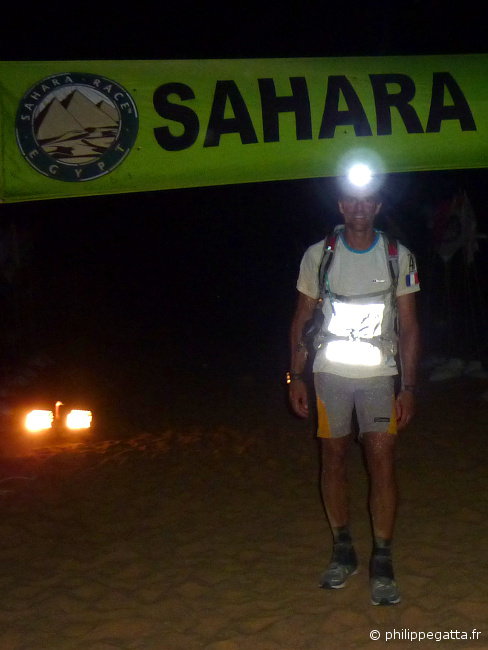 Sahara Race: finish line of stage 5 (© P. Gatta)
Today was bit boring, boiling in the tent doing nothing except chasing thousands of flies happy to eat rotten and wounded meat. My foot doesn't look too good but nothing serious at this point, need to keep an eye on it to see if I need antibiotic. The muscles are ok too. I am not too tired even the body is a bit messed up by the six marathons done in five days, the lack of sleep, the heat, etc. Just yesterday in 12 hours, I burned 7200 calories, ate a fourth of that, while drinking 10 liters… and running. I did sudoku, reminding me of the long days waiting at base camp in expeditions. We also discussed a lot between runners about the different races around the world, looking for ideas and upcoming challenges.
Tomorrow (Saturday) wont be too hard – except putting back the shoes – we leave this camp early in the morning and take a 2.5 hours long bus ride to the pyramid of Giza. Then we run 2km at the bottom of the pyramid to pass the official finish line of the race. Then we go to the hotel for a well deserved shower and the award ceremony.