137 competitors out of 150 took the start today. For me, it started very badly, 50m after the start I couldn't run because of the huge blister I have on my left heal: 3cm x 2cm, and I have a few other on the toes which haven't healed during the night. We started with several km of soft sand and dunes which is the worst for blisters because more sand comes in the shoes and the soft ground make the feet rolling inside the shoes, it was hell. After 1km I was probably around 30th, with the shoes full of sand, but I couldn't stop and loose 5min to take them off.
After a few km it became much easier, flat and packed sand so I could run again. Strangely it hurts less while running, but it is tiring. 😉 I caught up on many people and was 8th at the first check-point with one Japanese and two French in sight. I caught up Olivier at check-point two, he didn't feel good so we decided to stay together, helping each other. We couldn't keep up with the two Japaneses that are going better and better every day but we could keep some distance with the other runners behind.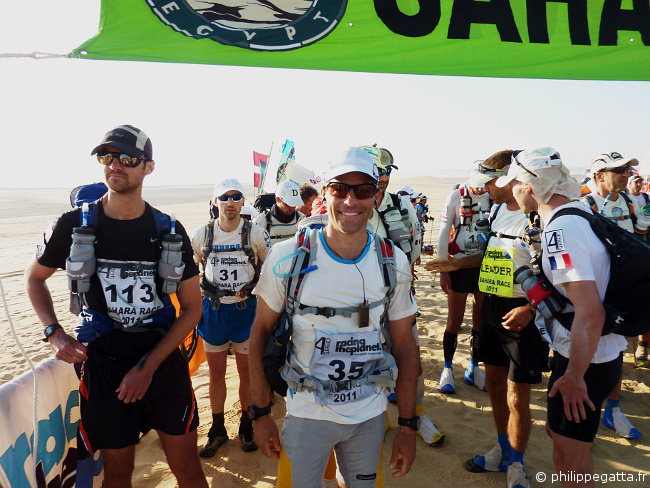 Sahara Race: start of the stage 4 (© P. Gatta)
Olivier is doing the 7 summits (has Everest and Vinson to go) so we talked mountaineering for a long time while running at 8km/hour. It helped as we forgot for a moment that we were running by 40°C! 🙂
Next time when I will be in an expedition, freezing my but off, I will probably think about the desert. Looks like we always think about another place to try to survive where we currently are.
We finished together in 5:19 hours, 8th, not too bad. For once the second half of the race was "easier" than the first half. We also wanted to "take it easy" today because tomorrow is the 87km.
I slept a bit this afternoon but am still very tired and have big pain in the thighs. I am not quite sure how to fix the blisters so that is a big question mark for tomorrow. The good thing is that tomorrow is more or less the last day because Friday is a rest day (depending at what time we finish the 87km), then Saturday morning we take a bus and will be dropped 2km away from the Giza pyramid. So we will run only 2km, which should be doable in whatever shape.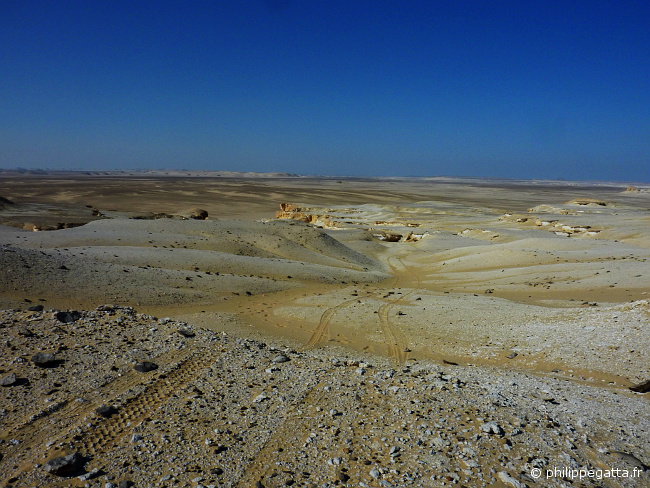 Sahara Race: stage 4 (© P. Gatta)
Two guys in the my tent dropped the race, and another had an IV and has been evacuated to Cairo…
The camps are comfortable, the views always amazing with fantastic sunset and sunrise. We also have a small luxury, we are allowed to use unfinished water bottles to wash our feet at the end of each stage! That is more or less the only thing we can wash, but knowing how we travel, that's an important one.
I probably have one of the heaviest pack around but I do not regret to have brought 22,000 calories instead of the 14,000 mandatory as I eat 100% of what I planned each day. I also drink around 10 liters/day. Half during the race and the other half before and after.
Now I will go back to my tent, rest and eat more. I don't think I will send emails during Thursday but I will on Friday to let you all know how the long stage went.
Again – thanks for the amazing support I receive through your emails. They are printed out on paper and delivered to me each day when I arrive at the camp. They are worth gold!