Yesterday night was nice, the camp was beautiful with a view over the lake. The temperature after 5pm is pleasant and the night was fresh without being cold. I put the sleeping bag on top of me but did not go inside. I slept okay even though the sand get packed after a while so it is not comfortable and noisy.
We woke up at 4:45am to get enough time to eat, get ready, listen to the briefing and started running at 7am. I ran from the start at 11-12km/h until the 2nd check-point. I was 6th from the beginning and kept this rank up to the end. After the 2nd check-point it started to be hot (42°C) and I had to slow down, a bit stressed to be caught-up by the people just behind me. I walked the last 3km as I started to over heat… The last few km have been tough for everyone, the sand was a bit softer with black and hot rocks, but as everyone suffered and slowed down, I kept my ranking until the end. Not bad at all and I finished in 4 hours 20 minutes.
My pack it too heavy, almost 10kg with the water, that is too much. No injuries so far, but still a pain under the left foot that I brought with me from the training at home…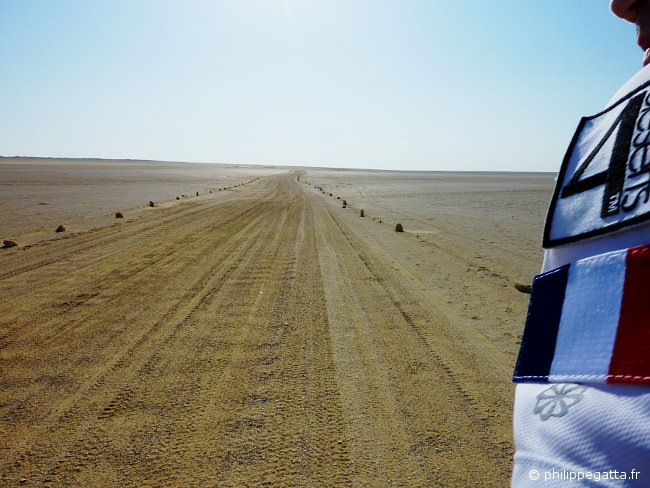 Sahara Race: stage 1 (© P. Gatta)
Overall the stage was made of hard sands with only short soft section and almost no dunes. it was very nice, a real desert, vast with some nice and changing scenery.
I found it really hard to run all the way and continuously pushing for the ranking. When running, it is also harder to eat so it was really time to pass the finishing line. To make thing harder we couldn't see the camp until the last 300m. I arrived at 11:20am and the temperature continued to raise, it was very hot in the tent and I thought about the runners still out there suffering in the sun. Now it is 3:40pm and only 89 runners are here.
The Suunto t6d helps a lot, first the foot POD gives the distance which helps to manage the stage. Then I also check the heart rate to avoid pushing too hard. I burned 3850 calories just while running.
Tomorrow will be different: 11km of relatively hard sand then 31km of dunes!
I plan to run the 1st 11km and then alternate run and walk or walk all the way. Will see. Then I worry a bit about the stage 5 and its 86km but I still have a few days to think about it…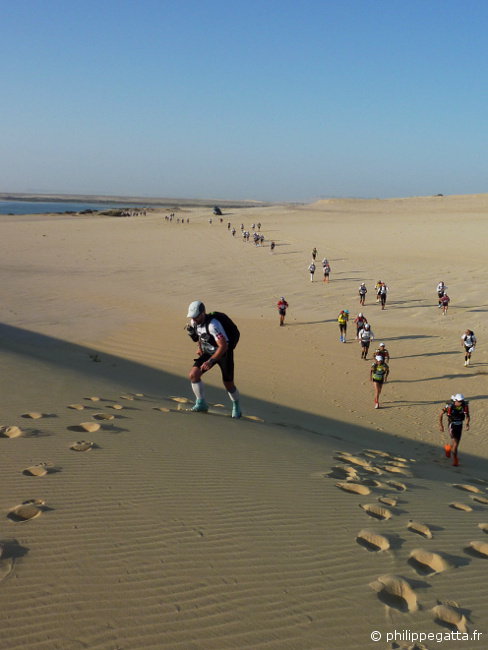 Sahara Race: stage 1 (© P. Gatta)