Thank you all for the support I get through your emails! Keep on sending, they really help me staying focused and pushes me to try my best.
As I wrote yesterday, I had a hard time to finish but I recover rather well. The good thing with having lots of food, even though it's heavy, is that I can eat a lot. I slept more or less okay last night. We got up at 5am this morning, just before the sunrise, had breakfast, some rest, listened to the briefing and started at 7am as planned. I managed the race better than yesterday, started a bit slower and ate much more throughout the race. I drank more too, almost 6 liters just during the race!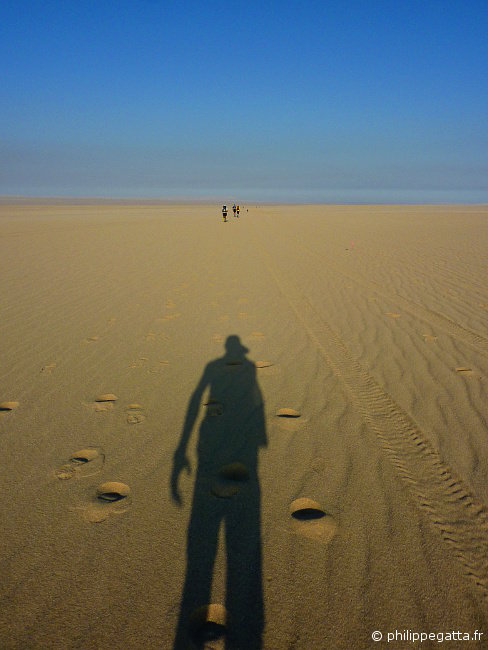 Sahara Race: stage 2 (© P. Gatta)
I was 8th for a while, then I passed three runners and finished 5th, just after Olivier (France), who was roughly 1km in front of me, and he was the only runner I saw for three hours. I got a little low before and right after the last checkpoint but could finished well. I felt better than yesterday, even though the stage lasted 1:10 hours more. It was tougher, with more soft sand and dunes and some ascent (+450m), somehow I prefer because we all have to slow down to let the body temperature descend. Finally the sand has been a bit more packed than expected which is good too. The scenery was absolutely amazing, dunes and sand as far as the eyes can see, then we climbed up on a plateau with a gorgeous view. Today's camp is also nicer, it is on top of a hill with a great view. We can see the runners approaching far away in the distance as small black dots in this sea of sands.
Once again arriving early is good, getting plenty of time to eat, rest, take care of the blisters, do emails… It is now 3:20pm and I feel pretty good, I rest some more and eat dinner around 5pm, before the sunset.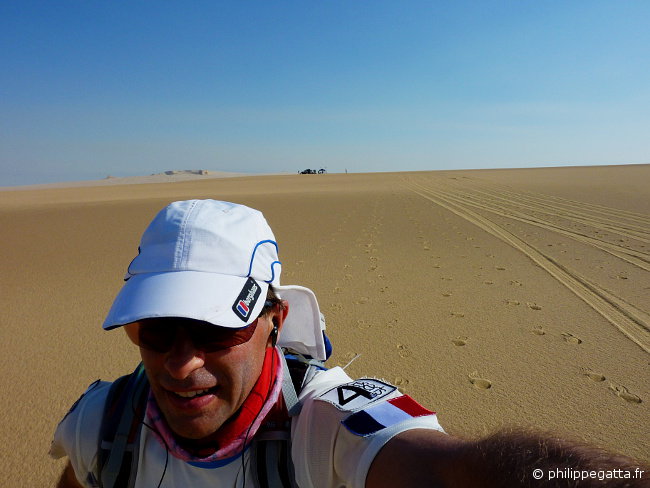 Sahara Race: stage 2 (© P. Gatta)
Tomorrow is pretty much like today, another marathon with soft sand and dunes most of the time. The day after should be easier, same distance again but with harder sand. Now the crux is the long stage of 87km. Usually the ranking changes a lot since if you feel bad it can take hours to finish and the few minutes between you and the guys behind in the ranking don't make a difference. So I will slow down the pace for the big one. Moral is good!
Note by Anna:
To look at some photos of stage two, check out this page.
Some photos of Philippe: image 21, 64, 73, and 97.
Video of the start of the first stage. Of course, Philippe is the one filming with the camera above his head while running! 🙂