Jon Griffith, Carine Salvy and I went back in the Argentiere Basin, Mont Blanc Massif, for our second day of photo shoots for Berghaus. This time we climbed the Couturier + Vivagel route in the North Face of Grande Rocheuse. We spent a short and cold night on the floor of the Grand Montet cable car station. We left it at 4h30, skied to the based of the Aiguille Verte North Face, climbed the Vivagel route and rapped down in Late to Say I'm Sorry. Then we skied down to Argentiere that we reached at 19h30, nicely ending this year 2010.
The conditions in the Couturier, Vivagel and Late To Say I'm Sorry were excellent. The end of the couloir to the ridge of Grande Rocheuse was in black ice.
The Vivagel route is graded: IV / 4 / 1000m.
First ascent: David Autheman, Jean-Marc Dellavolpe and Fred Vimal February 5th 1992.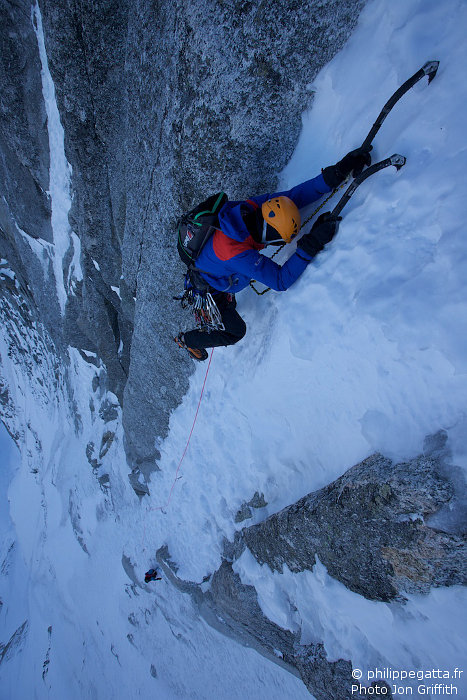 Philippe in the steep pitches of Vivagel (Photo J. Griffith)

Access: take the cable car of Grand Montets, leave the ski slope toward the bottom of the North face of Aiguille Carrée. Continue toward the Aiguille Verte. Quickly pass under the Cordier Couloir and go up to the base of the Couturier Couloir. Expect around 45 minutes with skis from the Grand Montets (20 minutes of descent and 20 of ascent with ski skins).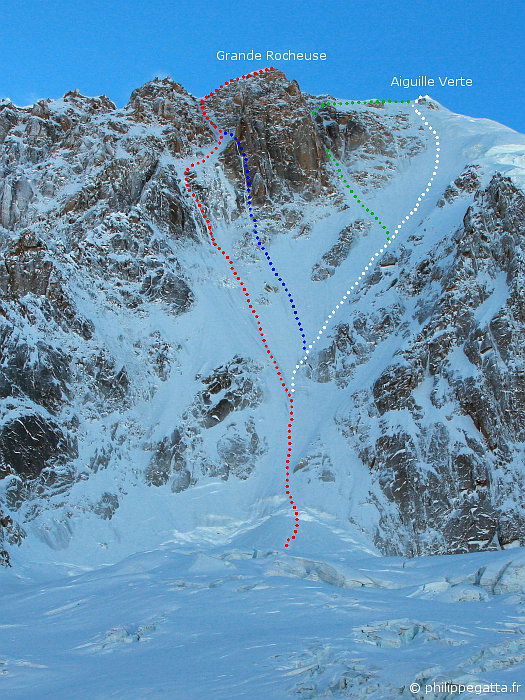 Red: Vivagel. White: Couturier. Blue: Late to say I'm sorry. Green: Bettembourg-Thivierge (© P. Gatta)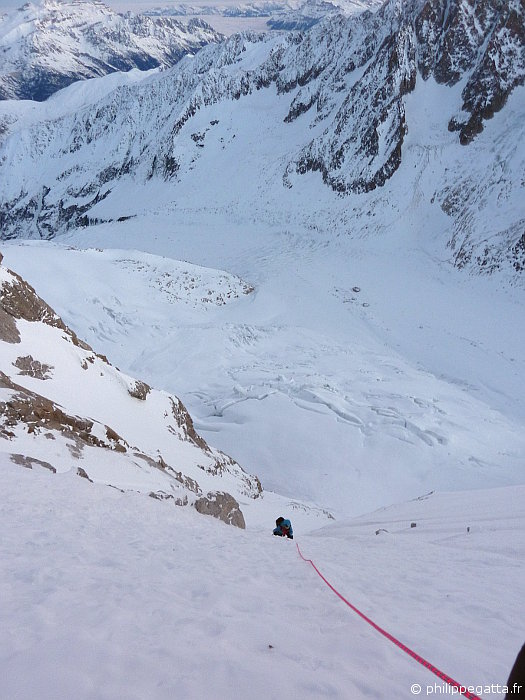 Carine Salvy in the first pitches of Vivagel (© P. Gatta)
Vivagel Route: pass the bergschrund and climb the Couturier Couloir (55°) until it turns to the right. Leave the Couloir and climb to the left, toward a large wall. There are three routes on this wall (see the photo above): Vivagel (left), Bourges-Mizrahi (center-right, IV / 4+) and Late to Say I'm Sorry (right, V / 5+ / A2). Climb some mixed terrain to reach the bottom of the first gully. Climb the gullies, 4 pitches at 70°/85°. On top of the gully, climb a Couloir which traverses first to the right, then more or less straight up to the East ridge of Grande Rocheuse.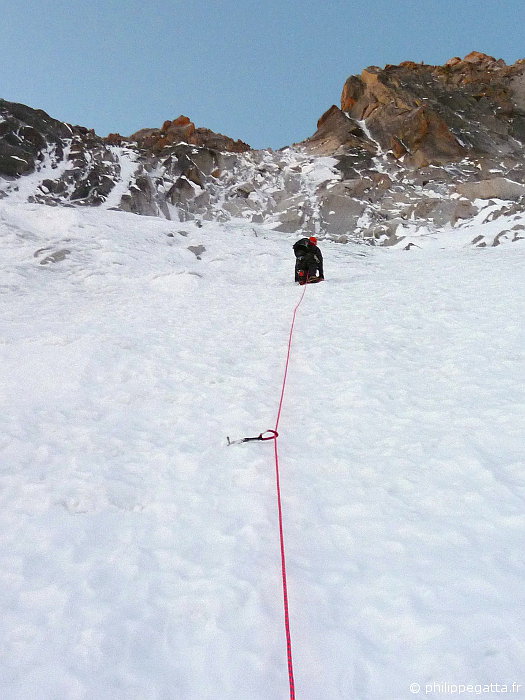 Jon Griffith heading up to Vivagel gully (left). We can see the thin ice gully of Late to say I'm sorry (right) (© P. Gatta)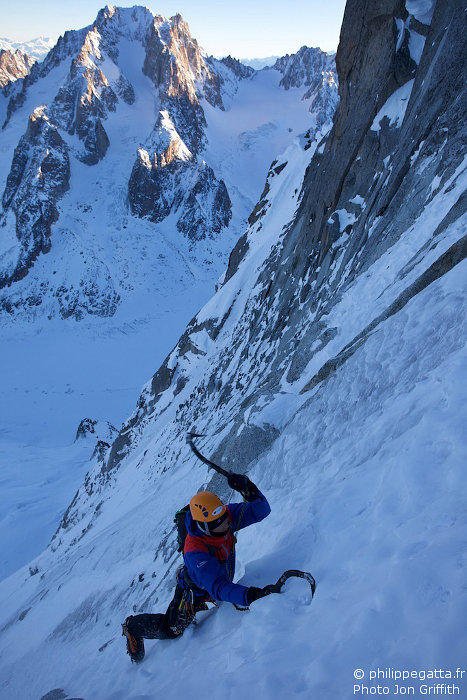 Philippe in Vivagel (Photo J. Griffith)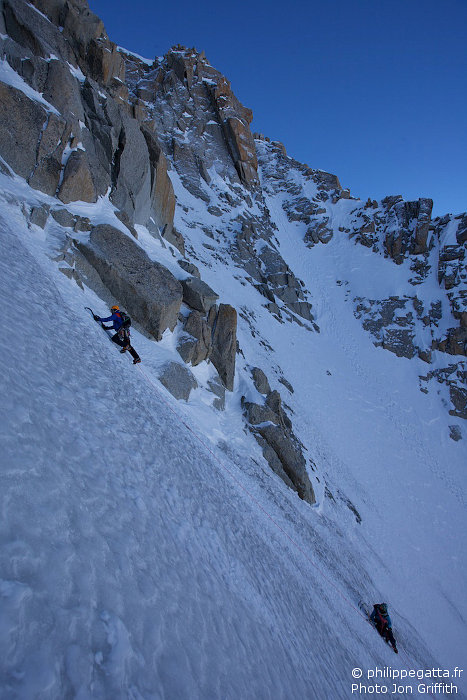 Philippe and Carine high up in Grande Rocheuse North Face (Photo J. Griffith)
Descent: there are several options, 1) Traverse the Grande Rocheuse and descent either via the Whymper Couloir (easiest but on the South face), or the Couturier Couloir. 2) We didn't find any anchors in Vivagel and we rapped down on Late To Say I'm Sorry. From the bergschrund, the fastest is ski down to Argentière.
More photos and information on Vivagel, Frendo-Ravanel and Cosmiques Ridge
Informations et photos (en Français) sur Vivagel, Frendo-Ravanel et l'arête des Cosmiques