At the end of the Month, I will go to Egypt to participate to the Sahara Race, a 250 km self-supported foot race which crosses the Wadi Al-Hitan (Whales Valley) and ends at the Giza Pyramids.
A week ago, I did the last long Trail of my preparation for the race. A 60 km trail between Bousieyas and St Sauveur sur Tinée along the GR5. Anna ran a part of the trail, climbed the Tete de Vinaigre (2394 m) and went back to Bousieyas.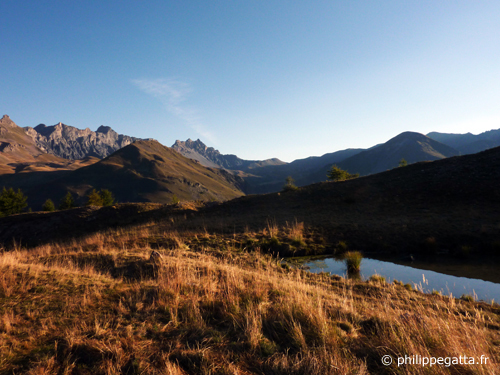 From the Cime de Pelousette to the Trois Eveques (© P. Gatta)
Distance: 63 km, ascent: 3100 m / descent: 4300 m.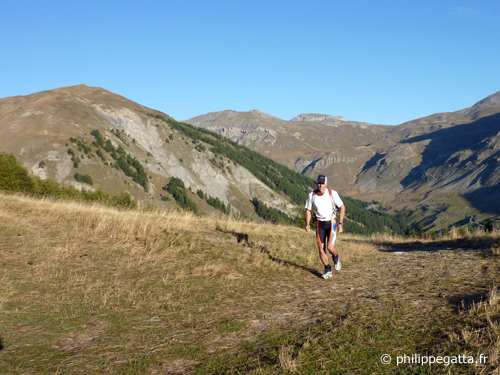 Philippe on the GR5 (© A. Gatta)
Description: start at Bousieyas (1884 m. Before Col de la Bonette), run along the GR5: Col de la Colombiere (signpost 43, 44, 47), descend to St Dalamas le Selvage (48), go up to the Col d'Anelle (68, 70, 71). Descend to St Etienne de Tinée (81, 80, 78) and go to Auron (1, 2a, 2, 3a, 4, 5)> Continue always on the GR5 to the Col du Blainon (10, 11, 12, 13, 13a) and descend to Roya (13b, 138, 137). Follow a long climb all the way to the Col de Crousette (143, 110, 93), continue a bit further to highest point of the Trail at 2778m and go to the refuge of Longon (48, 47, 46, 280, 279, 278). From the hut continue along the GR5 to St Sauveur sur Tinée (277, 276, 250, 254, 241, 240, 239, 238, 237, 235, 234, 232).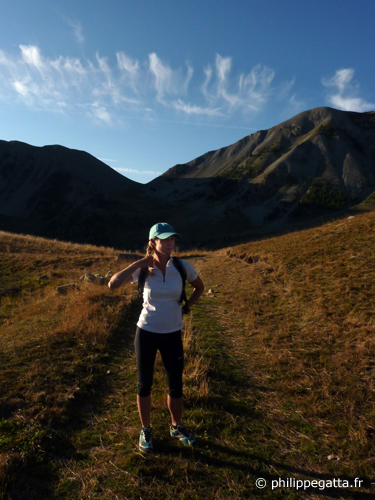 Anna with the Col de la Colombiere behind (© P. Gatta)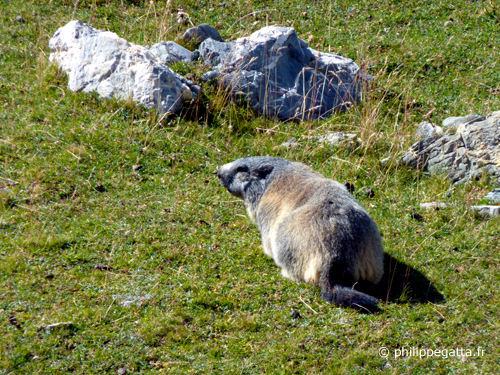 A marmot of the way to the Col de Crousette (© P. Gatta)