As I made a lot of ski touring and Alpine ascents in the past months, I really wanted to do some trail running again. I chose a trail of 38 km with +2700m of ascent, not far from Nice. I took a very light pack hoping that I could run most of the time and do it in a few hours. Again, the weather kind of messed up my plan; it snowed 10 cm during the night, I had to break the trail most of the way so I couldn't run much and finished in 9 hours.
Distance: 38 km, ascent: 2700m / descent: 2700m.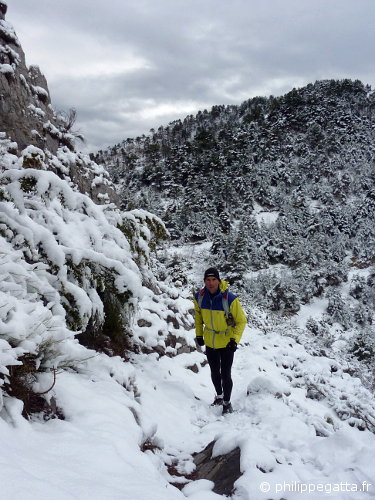 Philippe close to the Col St Michel (© P. Gatta)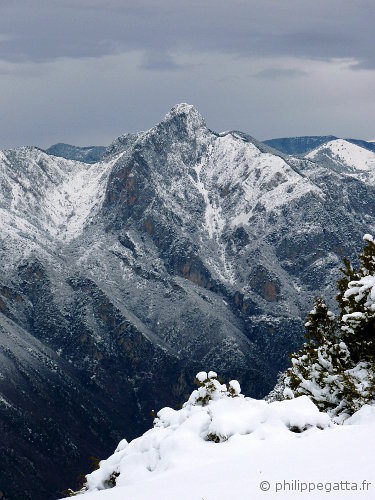 Brec d'Utelle under the snow (© P. Gatta)
Description: park at Plan du Var. Climb to Levens (signpost 298, 296, 294, 293, 292). Continue up to the Mont Férion via the Col of Dragon (250, 251, 252, 253, 254, 255, 256, 257, 272, 273). Descend to the Col Saint Michel (206, 443).
Climb to the Col of l'Autaret (444, 447, 448) then descend to the village of Imberguet via the Collet de Boiera (123, 122a, 122). Continue to Saint Jean la Rivière (121, 124).
Climb to Utelle (12, 111, 112, 113), continue to the signpost 114. Climb to the Sanctuaire de la Madonne d'Utelle (115, 116) and descent to the Col de la Moutète (117, 118, 105, 100). Continue down to the Chaudan (99, 98, technical and steep descent, 97). Follow the road for 1.6 km to Plan du Var.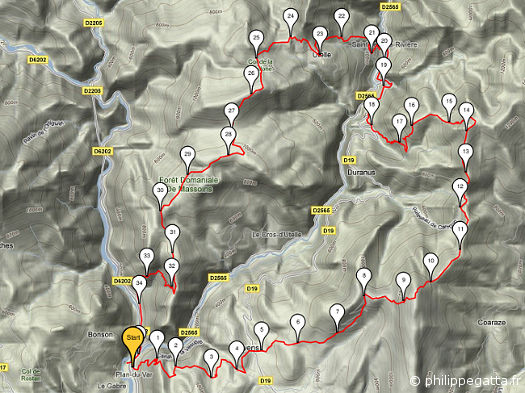 Map of the trail (© P. Gatta)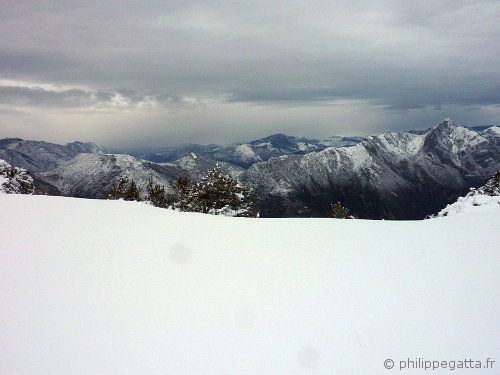 View from the Col de l'Autaret: Madonne d'Utelle to Brec d'Utelle (© P. Gatta)