Great trail running in Mercantour National Park. This trail starts at the village of St Martin Vesubie and follows the crests of Cime de la Palu (2132m), Cime de Fuon Freja (2334m), Mont Lapasse, Tete de la Lave, Cime de la Valette de Prals (2496m) and Cime the Montjoia (2366m). Then it goes back to St Martin Vesubie via the GR 52A and the village of Berthemon les Bains.
Overall the trail is good but not so easy with over 14 km above 2000m and some technical sections coming down from the Cretes de Bermonnet.
Distance: 35km, ascent: 2330m / descent: 2330m.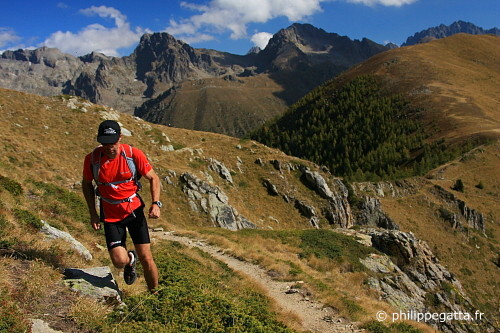 Mercantour (© P. Gatta)

Description: start from St Martin Vesubie and climb to the Cime de la Palu (posts 337, 342, 343, 344, 345). From there stay on the crests all the way to the Cime de Montjoia (posts 297, 298, 299, 300). Descent the Cretes de Bermonnet (301, 302, 439, 289, trail not so well marked) to the GR 52A. Follow the GR 52A to Berthemont les Bains (288, 287, 286) then conitnue to St Martin (291, 284, 285).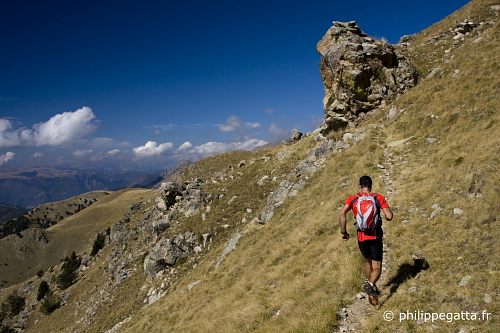 Mercantour (© P. Gatta)
Map of the trail: