In November Anna and I went to the Valleys of Gordolasque and Merveilles to make a new Trail running video. This 21 km Trail is very scenic with great views over many lakes and peaks of the Mercantour. It also crosses the archaeological site of Vallée des Merveilles and loops around three high passes and two huts.
Video of Gordolasque and Merveilles (© Philippe & Anna Gatta)
Description: start at Granges des Clots (1589 m, signpost 276) in the Gordolasque Valley. Go up along the Vallon de la Mairis and continue to the Pas du Trem (2480 m) right by the Cime du Diable. Go down toward the Refuge des Merveilles along the GR 52 (404, 92). At the refuge go up and cross the archaeological site of Vallee des Merveilles (93) up to the Baisse de la Valmasque (2549 m, 94). Continue on the GR 52 up to the Baisse du Basto (2693 m, 401). Take left to descend to the lake Autier and continue down to the Pont du Countet (414, 413, 412). Continue on the small road for 1.5km to join the starting point.
See list of Trails and Trails in the French Riviera.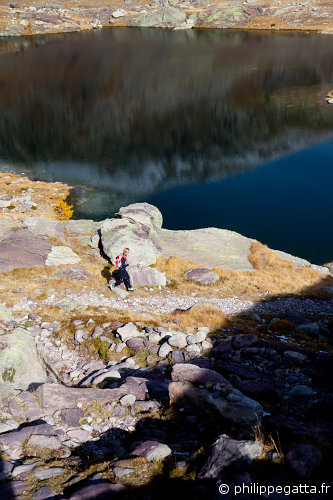 Anna descending toward the Refuge des Merveilles (© P. Gatta)