MOUNT EVEREST (8850 M / 29,035 FEET)
NORTHEAST RIDGE - HIMALAYA, TIBET

Mount Everest North side © Philippe Gatta
From Katmandu to Everest base camp and acclimatization
Mount Everest is the highest summit on earth. The top reaches 8850 meters. The mountain, which is part of the Himalaya range in High Asia, is located on the border between Nepal and Tibet. It is also known as Chomolungma which means "Mother of the Universe" in Tibetan. Mt. Everest is also one of the 7 summits.

Edmund Hillary and Tensing Norway Sherpa made the first ascent from the Nepalese side on 29 may, 1953. We climbed the Northeast ridge on the Tibetan side which was climbed first in 1960 by a Chinese and Tibetan expedition.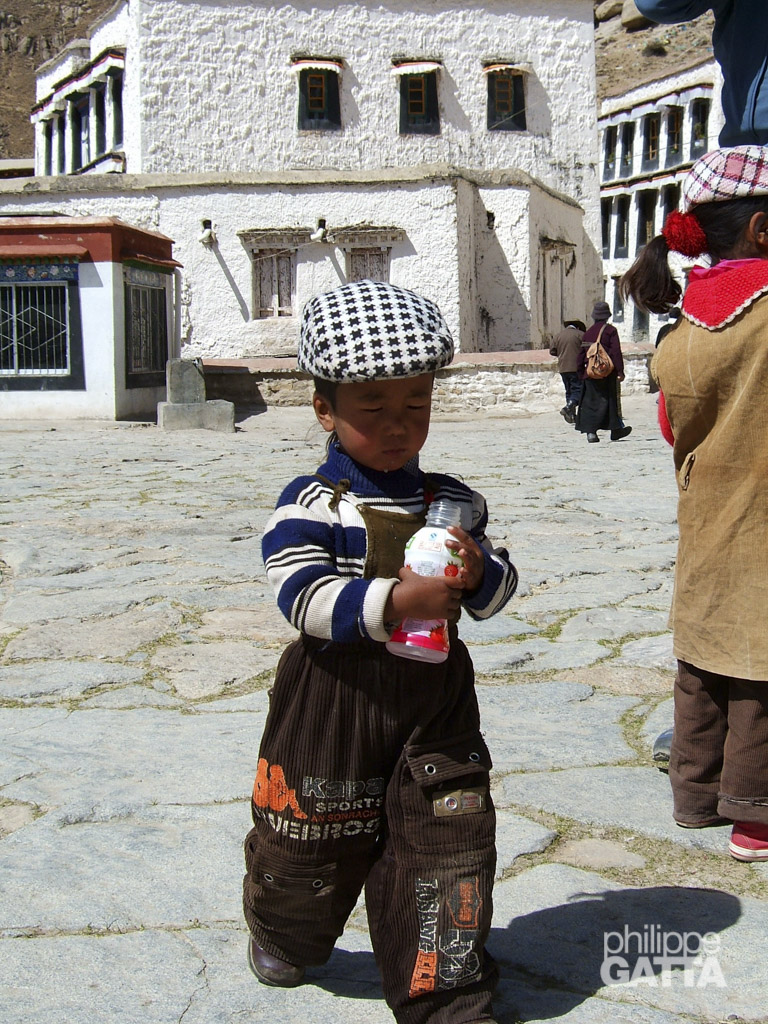 We arrived in Katmandu on April 15 and spent two days to review the gear, food, etc.
April 17-22: we flew to Lhassa (3660 m, Tibet) then we left Lhassa and crossed the Tibetan plateau toward Everest.
On April 23: we arrived at Everest base camp at 5150 m / 17,000′.
April 24-May 16: we made a first rotation up to the North Col of Everest at 7050 m / 23,000′ to acclimatize and carry loads.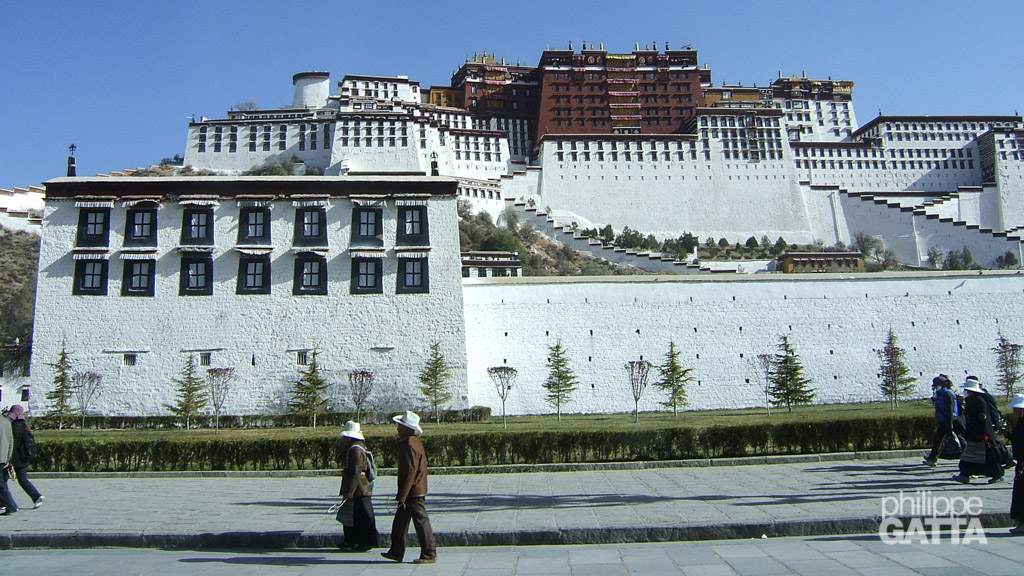 May 17: Everest Base Camp (5150 m /17,000 ft) - Interim camp (5750 m /19,000 ft)
24th day of the expedition. We came back from our acclimation trip to the North Col of Everest (7050 m / 23,000 ft) 10 days ago. Even though we train 3h a day, I am a bit worried that those 10 days spent at the Base Camp have been too long and that we lost part of our acclimatization. 
My Oxygen saturation seems to confirm it. It was at 90% a few days ago, it is now at 86%. In fact, we planned to leave for the summit two days ago and aim for the middle of the good weather window (May 21-22) but the weather forecast was still uncertain.
We are going up today, toward the Interim camp. It is a walk of 12km (7.5mi) on the East Rongbuk glacier. 3h30 on the moraine.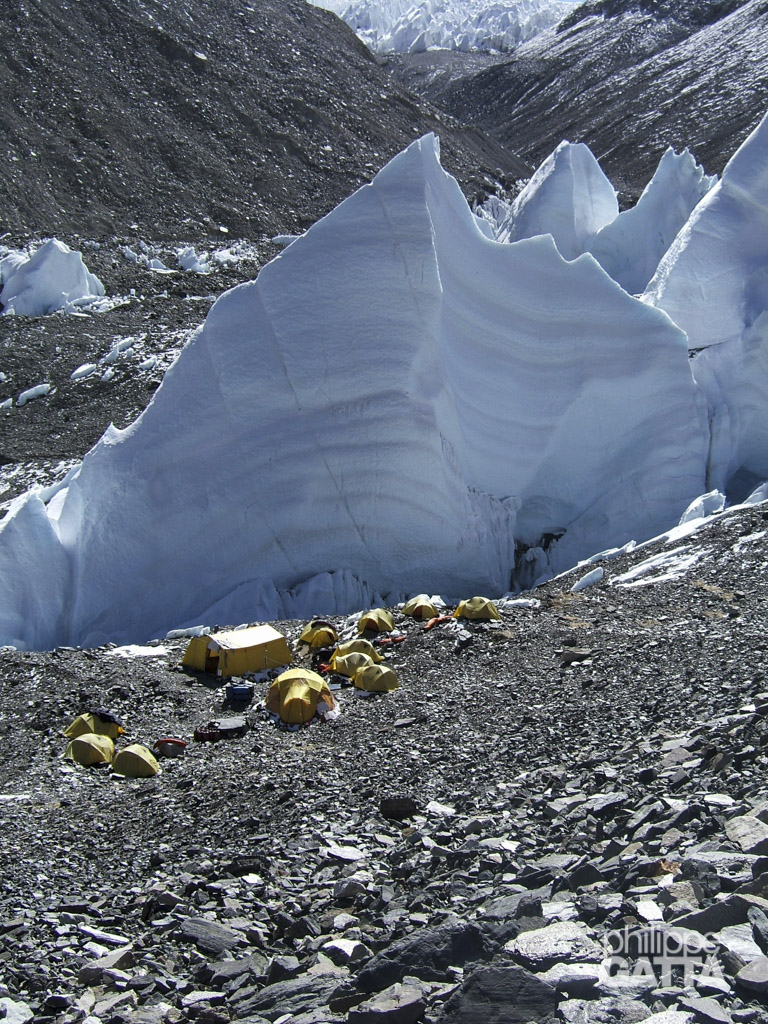 Yaks in Everest expeditions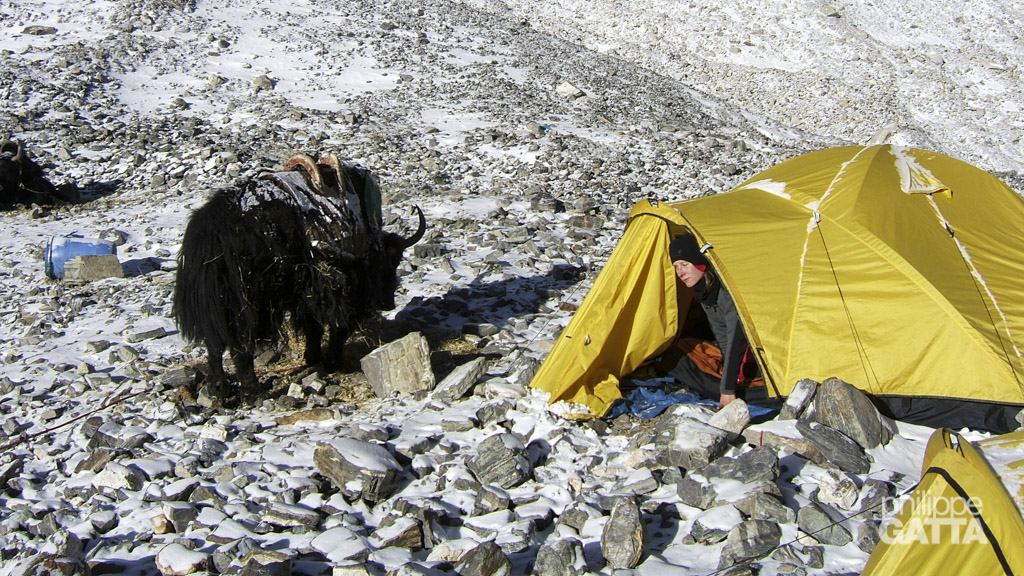 In total we have 2.5 tons of gear, food, tents, etc to carry to the advanced base camp. As each Yak can carry around 40 kg, we needed 60 Yaks to bring everything to the advanced base camp. Multiply that by 15 expeditions and you will have an idea of how many Yaks travel on this trail regularly.
Yaks are ordered to the liaison officers several days in advance. Then he contacts the villages around to find enough Yaks to fulfill the needs. As some villages are far away from the Everest, it can take up to 9 days for the Yaks and their owners to join the base camp. Here they carry the loads to the advanced base camp and then return to their villages.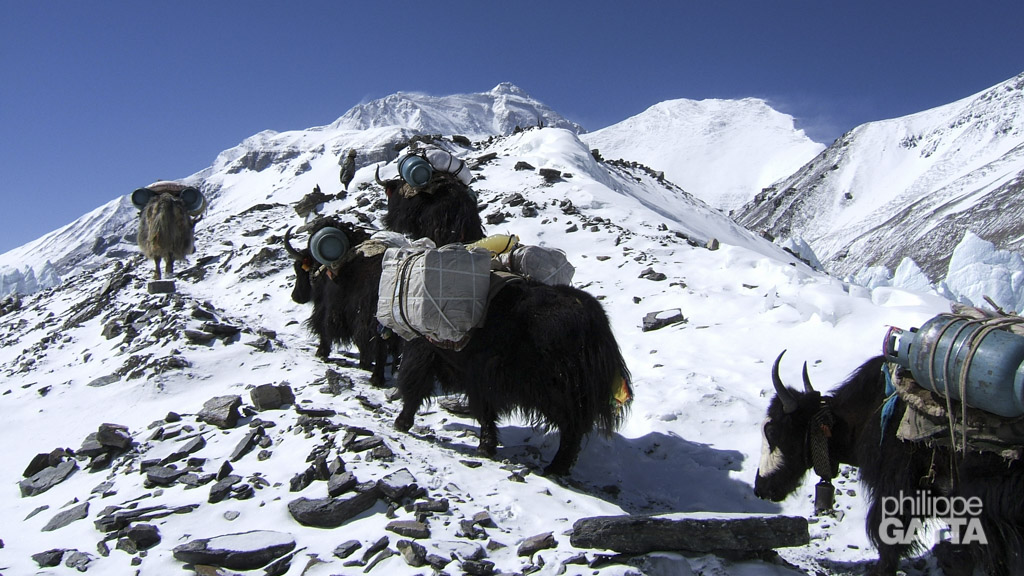 May 18: Interim camp (5750 m / 19,000 ft) - Advanced Base Camp (6450 m / 21,000 ft)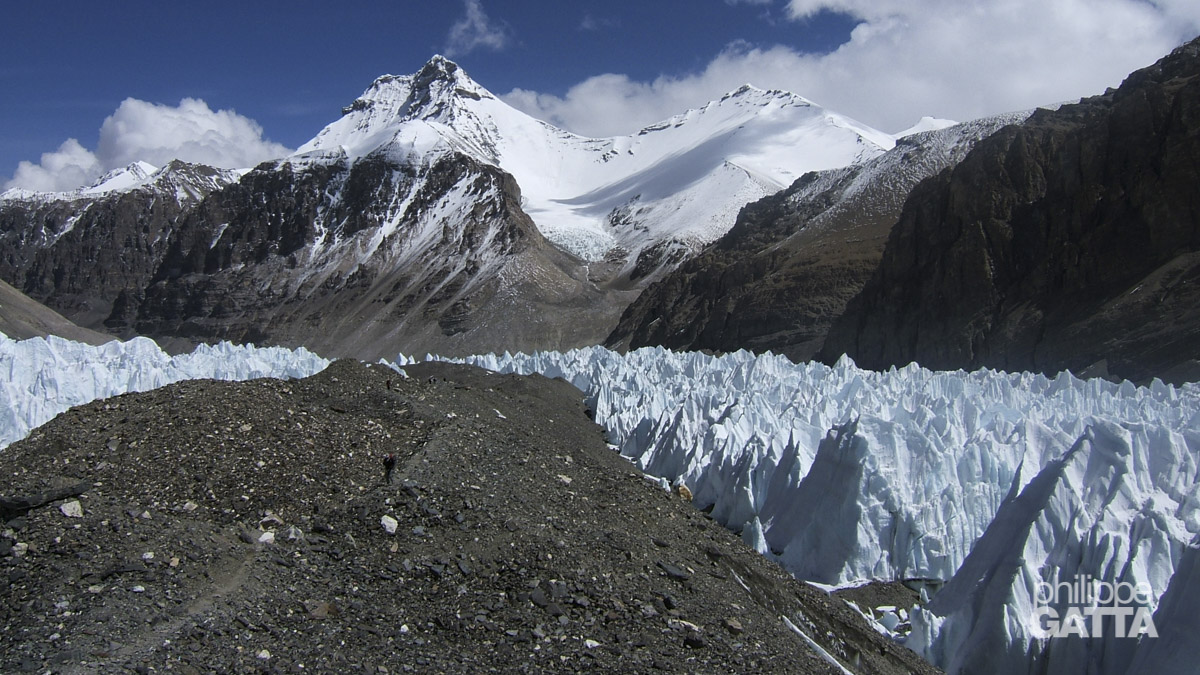 We continue our walk on the East Rongbuk glacier on the famous "miracle highway". In fact, it has been named this way by the first explorers because there is an easy strip of stones splitting the glacier in two parts.
Climbers progress along this strip instead of crossing 10km of glacier and crevasses.
May 19: Rest day at the Everest Advanced Base Camp (6450 m / 21,000 ft)
Today, we stay at the advanced base camp to recover from the last two days. Moreover, we review the gear and food that we will carry up to the North Col of Everest.
May 20: Advanced Base Camp (6450 m / 21,000 ft) - Camp 1 at North Col of Everest (7050 m / 23,000 ft)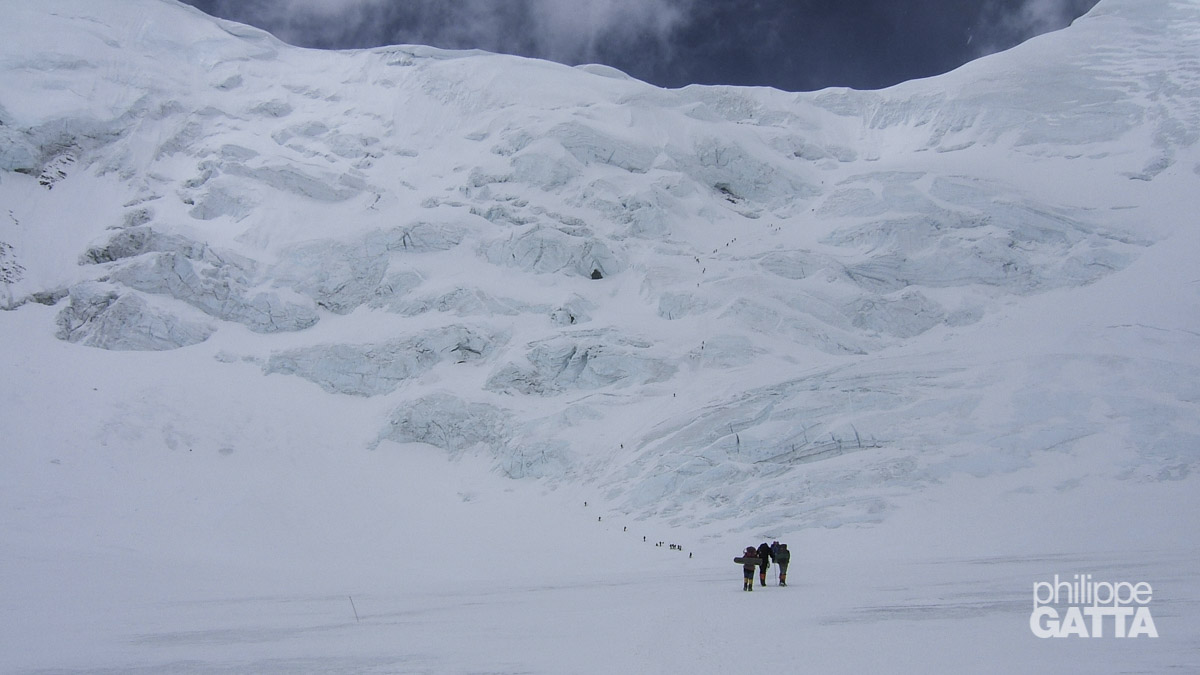 Last time I climbed to the North Col of Everest I baked, so this time I leave the advanced base camp early.
Unfortunately Geff is sick and will not go up with us.
Finally there is no problem with the climb but we have to speed as we pass below the big serac half way to the col.
May 21: Rest day at North Col of Everest
I am not sure we needed this rest day, many teams skipped it and went straight to camp 2. Anyway, we will stay here at 7050 m / 23,000 ft all day melting snow to drink, eat and rest. Many climbers who summitted earlier are passing in front of our tent, we cheer and congratulate them but we are scared to see how exhausted they are.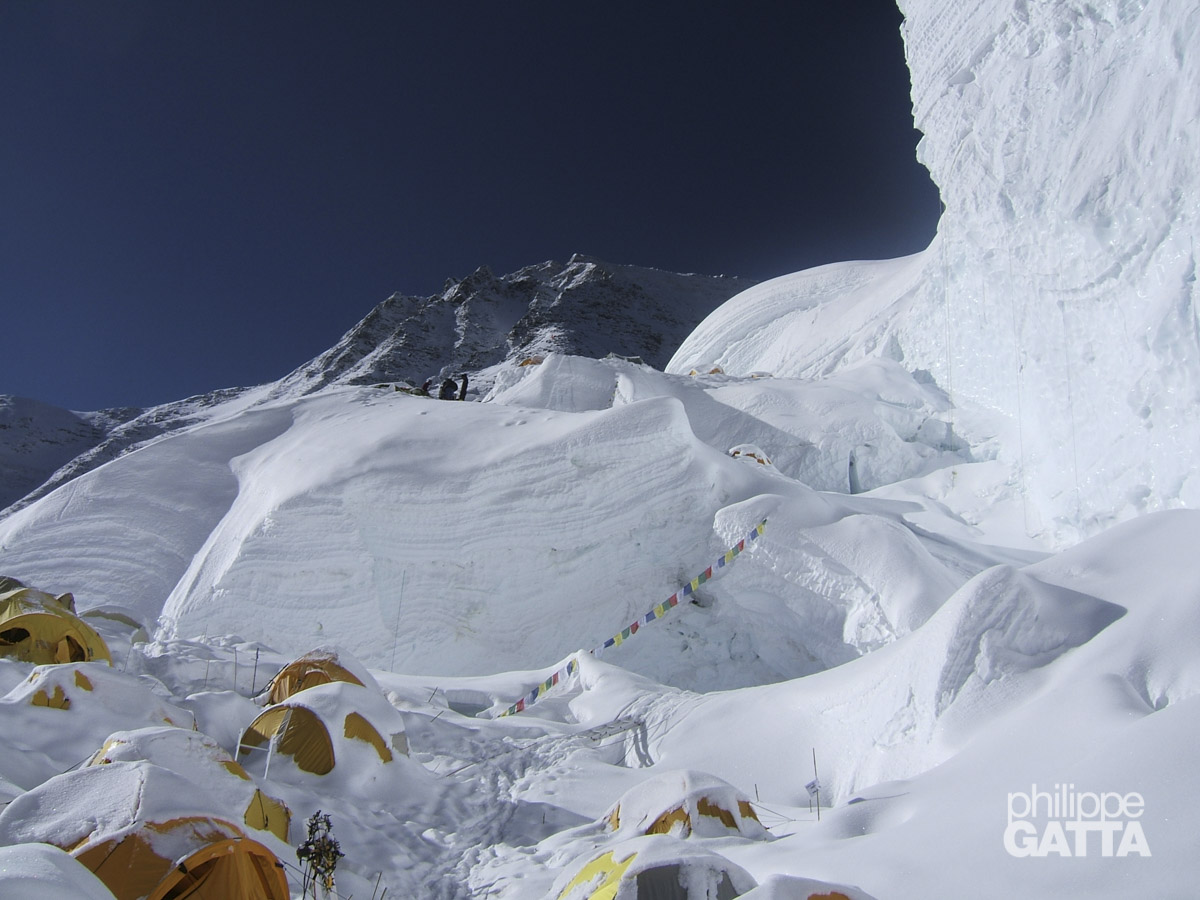 May 22: Camp 1 at North Col of Everest (7050 m / 23,000 ft) - Camp 2 (7700 m / 25,000 ft)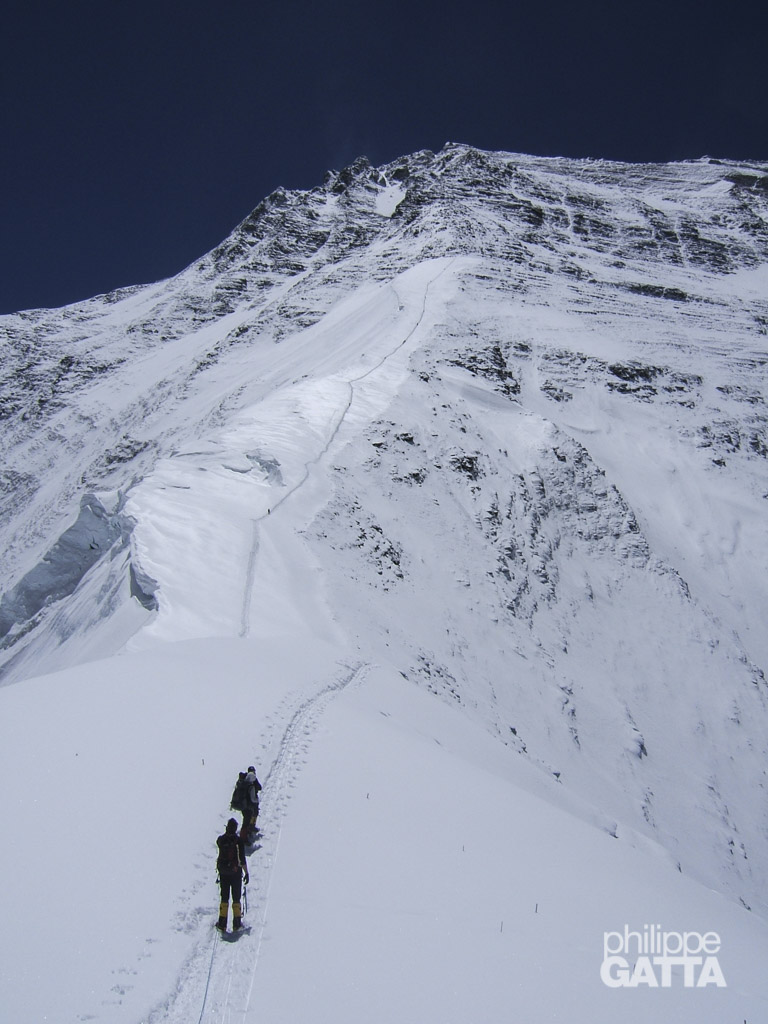 We just got a call from Duncan who is at the camp 3; he told us to be prepared for a cold and windy day. Let's be positive, I will wear the down suit instead of carrying it in my rucksack already full.
Undenaibly the snow conditions are good but the wind is getting stronger as we climb up. When we reach the camp 2 the wind is blowing at 60 km/h (37 mph). As there is no large spot to put all tents together, they are quite spread out. I share a small tent with Gavin. We spend a part of the day listening to the radio conversations between the Sherpas trying to help out a climber who broke a hand in the second step.
The wind is blowing hard during all night. We sleep with all the clothes on and we keep everything in the rucksack in case the tent is blown away.
Changtse (7583m) seen from camp 2. We can see the tents at the North Col below. (© P. Gatta)
May 23: Camp 2 (7700 m / 25,000 ft) - Camp 3 (8300 m / 27,200 ft)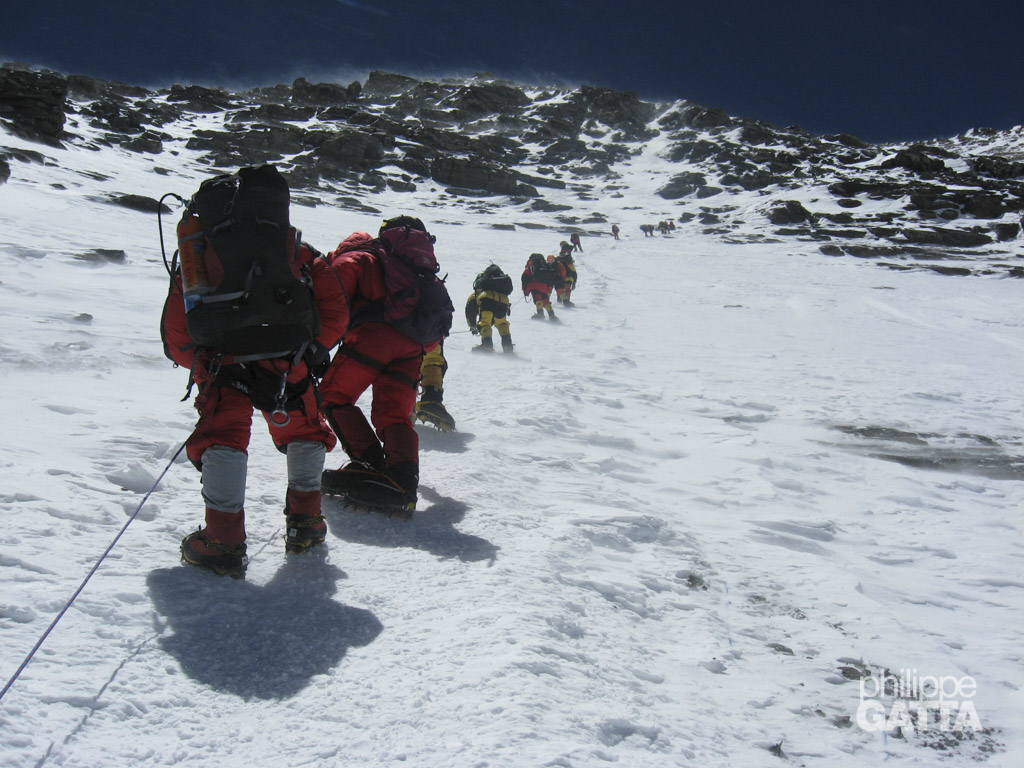 We spend the afternoon resting, drinking and eating some snacks. At 11pm we have all our clothes on and not an inch of skin is exposed to the wind. We have to wear the goggle even if it is dark to protect the eyes from the frostbite. I put 2 bottles of boiling water inside my down suit. It takes a while to put crampons on; the buckle are frozen and the metal is so cold that it sticks to the gloves. Fortunately we covered the ice axe with soft plastic and hockey tape to avoid this problem and to isolate the metal from the gloves. 11:30pm, we are ready to go.
We got the last weather forecast by radio early in the morning and it is bad. The wind will be stronger than expected, from 40 km/h (25 mph) raising to 80 km/h (50 mph). Moreover, the temperature will drop to -25/-30ºC (-22ºF). Consequently we have a long discussion between us. Finally Kirsti, Kevin and Gavin decide to go down. I decide to go with Namgyal and Nima. Jamie stays at camp 2 to follow our climb.
Then we leave early to the camp 3 that we reach in 4 hours. I am not sure we should call this place a camp, it is rather a 30º snow slope where we can pitch a few tents. Going in and out of the tent once we had taken off the crampons is quite a challenge.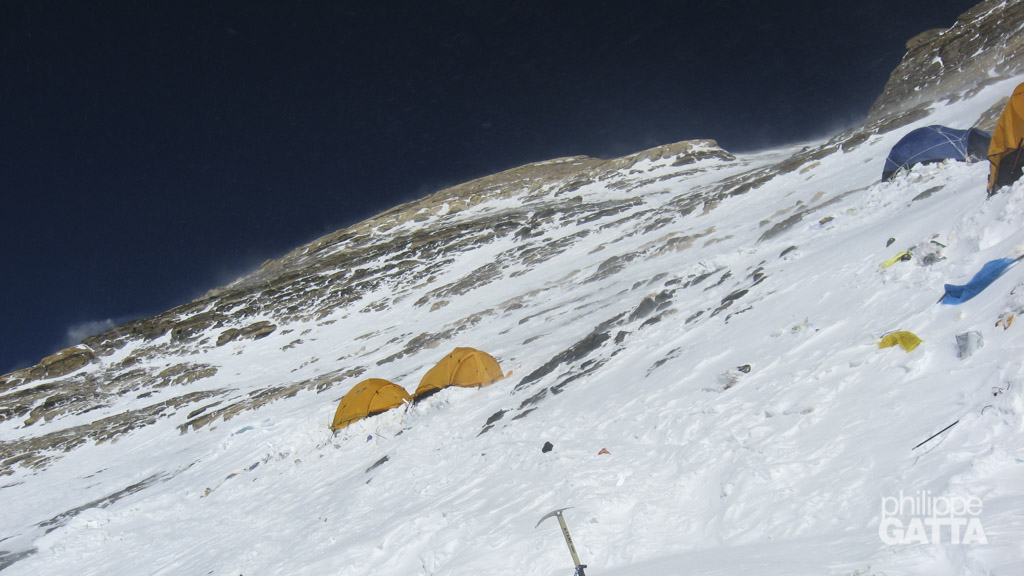 View from the steep camp 3. Only 5 mountains in the world are higher than this camp. (© P. Gatta)
May 24: Camp 3 (8300 m / 27,200 ft) - Everest Summit (8850 m / 29,035 ft) - Everest North Col (7050 m / 23,000 ft)
We leave the tent at 11:30pm (on the 23rd), the wind is not too strong but it is very cold. The first part of the climb up to the Exit Cracks (8500 m / 28,000 ft) is steeper and more technical than I thought. It requires ice axe and crampons front point technique. Also, the snow is soft and around calf deep and the trail broken is instantly filled in with fresh snow.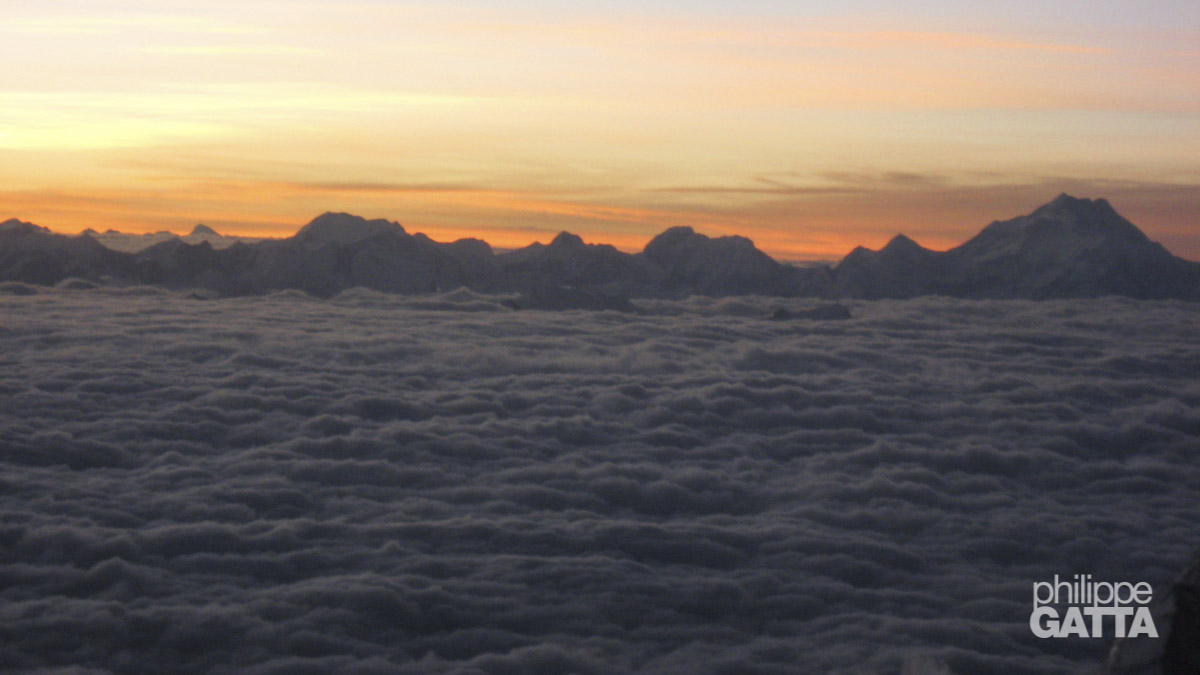 The second step (8610 m / 28,250 ft) is the hardest section of the route. The lower part consists of large boulders (III) that I climb in a hideous style. I use my knees, elbows and everything I can. Above, a steep snow gully leads to the bottom of the famous ladder. The first ladder was placed there by the Chinese expedition in 1960 in order to ease the vertical slab (V+). Climbing the ladder is easy but the traverse from its top is very exposed and technical. The fixed rope is poorly placed; they are so low that they are useless and would not stop a fall.
It is a relief to reach the ridge (8500 m / 28,000 ft) where we can find better snow conditions. The flip side is that we are more exposed to the wind which doesn't allow us to stop for any rest.
The First Step is a short climb at large boulders (PD, II). Then the traverse continues to the right on the narrow ridge.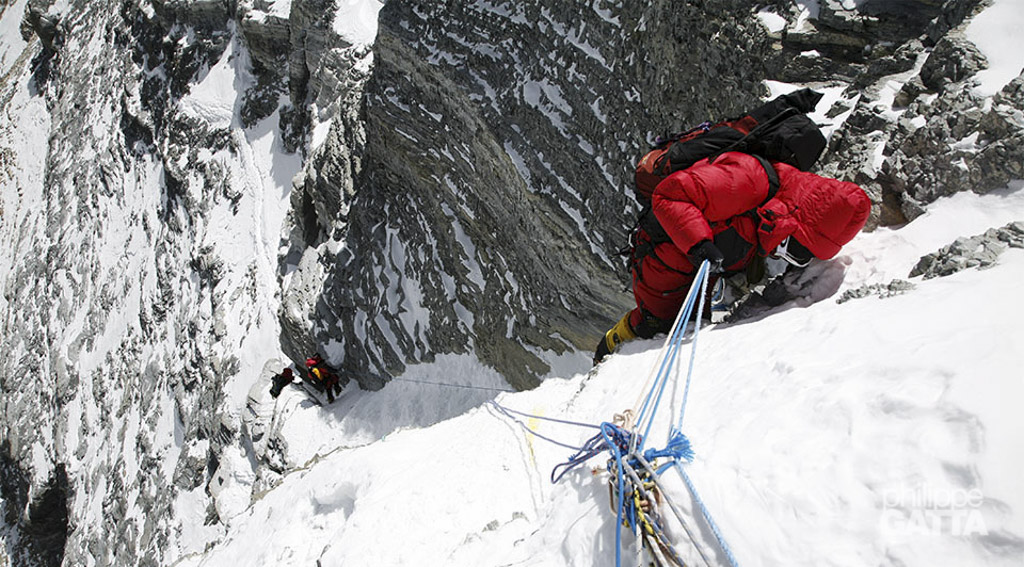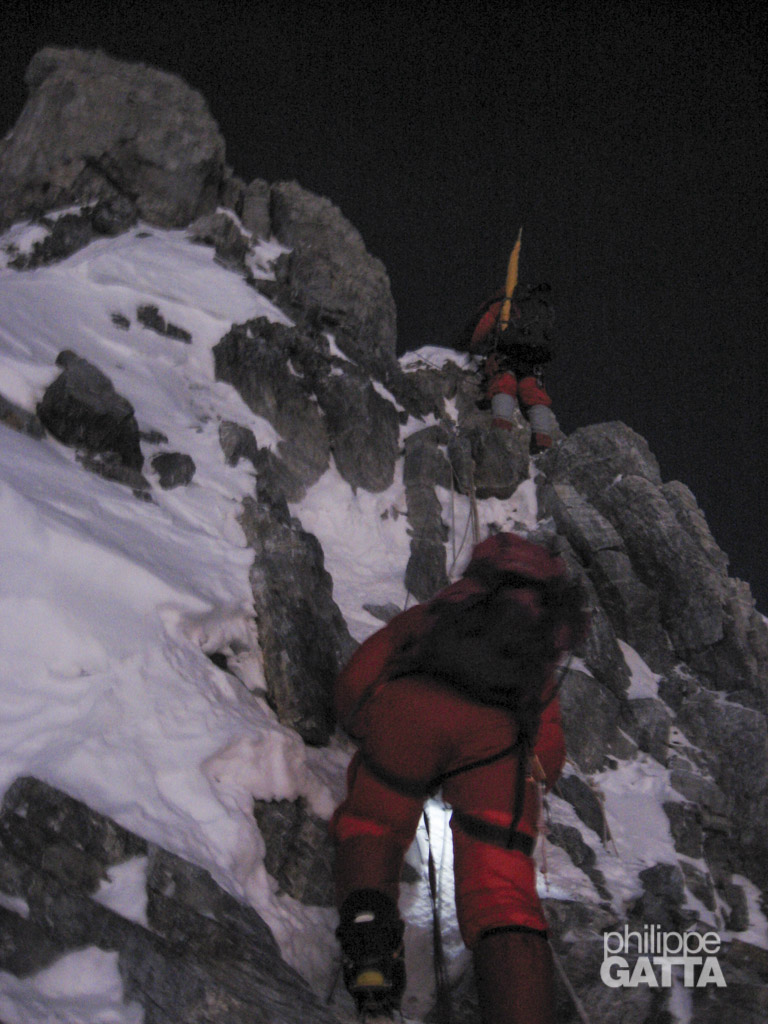 Just above the third step, 2 dead bodies lay down only few meters away from the route. I saw several others at a lower altitude too. Two of them died only a few days ago, some last year and others several years ago. I am shocked and sad. I know that it is not possible to get the bodies down from this altitude but perhaps their team mates could have buried them a bit better.
Passing the second step was good mentally, now it remains 2 hours to the summit and it's easier. 
Then, the third step is easier (II) and shorter (10m).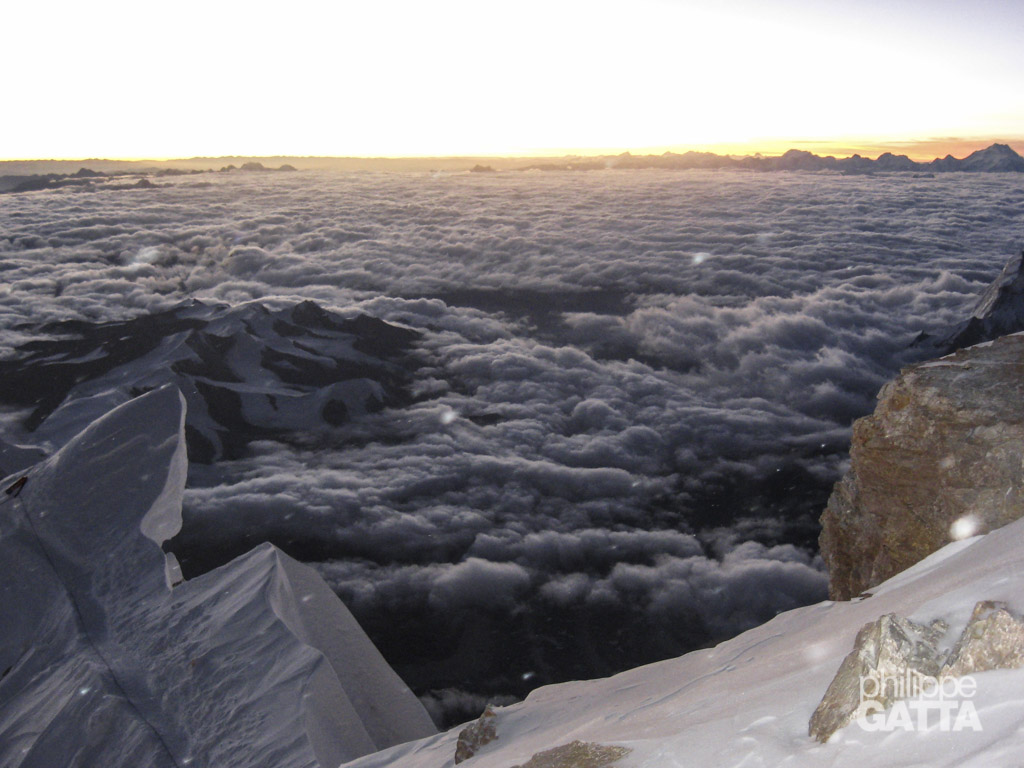 The sky becomes orange as the sun rises. We catch up the Colombian team on the last snow slope. Then we leave the ridge and go right to impressive North face of Everest that we will follow for a few pitches. This face is very steep and we can see the glacier 3500 m / 11,500 ft straight below.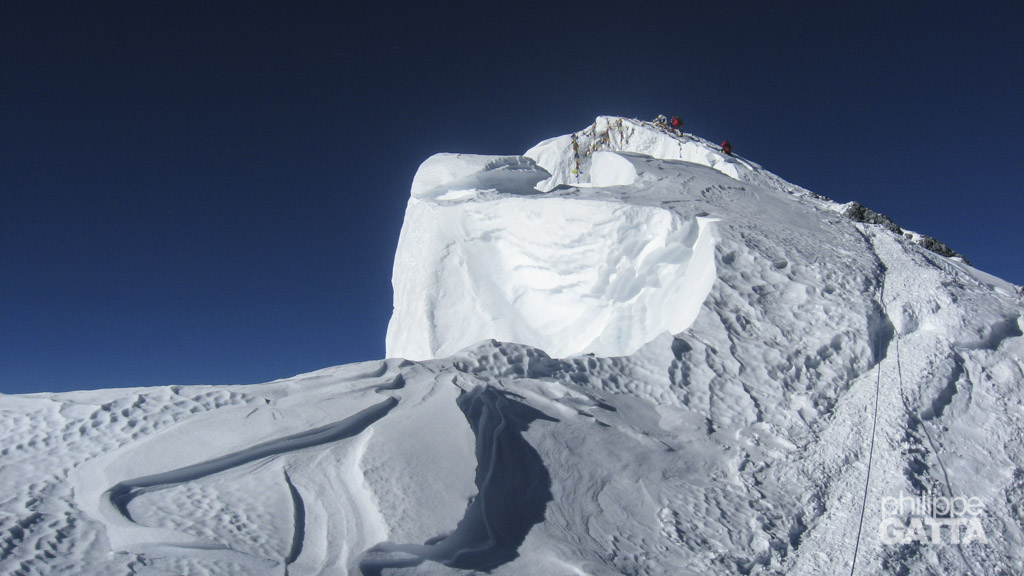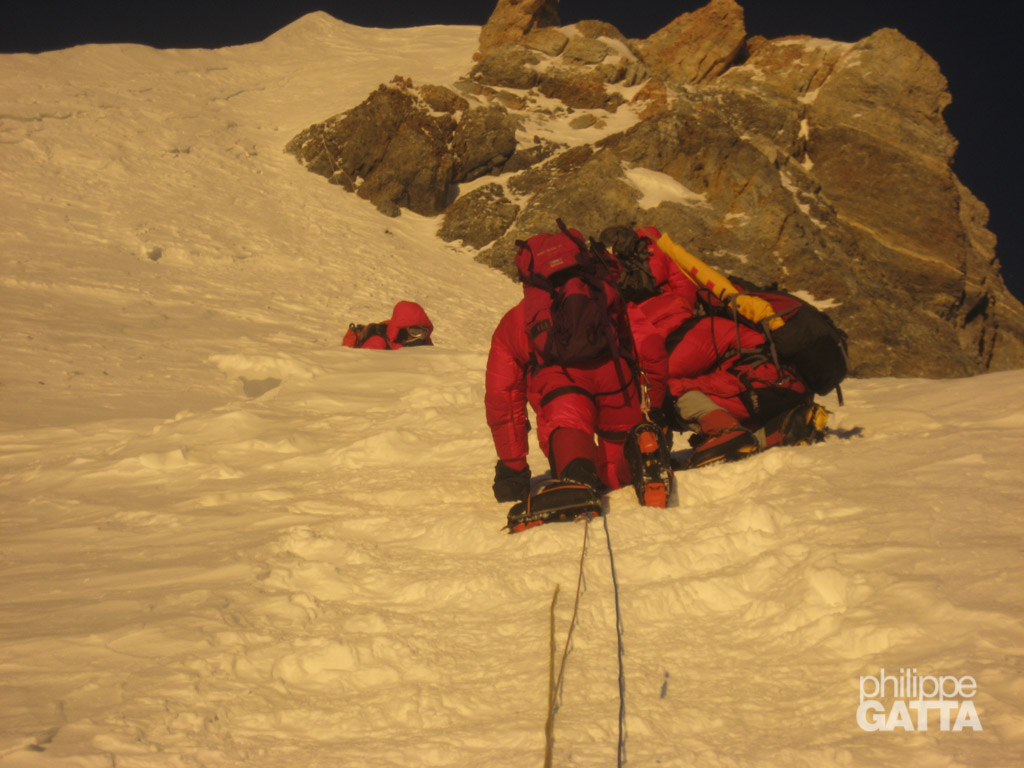 We exit the North face to the summit ridge that we follow to the top of Everest. We reach it at 5:45am and stay there for 45 minutes.
Looking South-East from the top of the World: the big pyramid is the Makalu, 8485m, 5th highest mountain. Behind on the left we can see the Kangchenjunga, 8586m, 3rd highest. (© P. Gatta)
6:30am, it is time to go down. Namgyal stays a bit longer to take more pictures. No problem on the way down until the second step. When I reach the second step, Nima and Namgyal are way behind. I start climbing down anyway and soon get my left foot trapped in 5 or 6 old ropes. Unfortunately I can't move up or down, I can't use the fixed rope either because it is badly placed and too low. So I try to stay calm, remove the mask to have a better look at the situation, and put it back on to breath heavily before moving. Finally, I take off my foot from the mess and move slowly to reach the top of the ladder. The full process took me probably 15 minutes but it went well and I can continue the descent.
I do not fully trust the fixed rope and prefer to climb down rather than rappelling. It takes longer but I finally reach the camp 3 around 9am.
We stay there a few minutes to melt some snow to drink, eat a snack and I continue the descent alone. At 8000 m, mythic altitude, I stop to take a last movie.
I reach the camp 2 around 11:30. Jamie gives me 0.5l of juice that I drink straight. What a pleasure! Stupidly I am still carrying the water in my down suit even though it is so cold that I can't drink it. Since we left the camp 12 hours ago, we almost didn't drink or eat. I pay the price now, being very tired and sleepy. The wind is blowing at 80km/h (50 mph) and conditions are getting worse so we can't stay here and have to go down quickly.
Camp 2 - Everest North Col
The descent to the Everest North Col takes me almost 4h while I climbed it in 5h with a heavy rucksack few days ago. At several occasions I seat in the snow, more or less falling asleep. Eventually, I reach the North Col at 3:30pm. We have been climbing for 16 hours, with 22 kg of gear, mainly above 8000 m in deep snow and cold weather. That's enough for me today, I decide to sleep there and I'll continue the descent to advanced base camp tomorrow. Finally I enjoy this last night at this nice camp now I know that it is over.
May 25: Everest North Col (7050 m / 23,000 ft) - Advanced base camp (6450 m / 21,000 ft)
After a good night, I feel great and I am ready to go down. Jamie and I clean up our two tents, gather all our gear and leave the camp with big rucksack again. Just before reaching advanced base camp, Jamie realizes that he put his camera on the ground when we took off the crampons and forgot it there. So he goes back up again to recover his camera while I am eating the first real meal in several days. In the afternoon I pack all my gear (40 kg / 88lbs) that will be carried down by the Yaks.
May 26: Advanced base camp (6450 m / 21,000 ft) - Base camp (5150 m / 17,000 ft)
I leave the advanced base camp and I am glad to walk down the 25 km / 15 miles along the Rongbuk glacier for the last time. Four hours and a half later I reach the base camp, this is the end of the walk and the climb of Everest. It is nice to be back into a thicker air. Then, I spend the afternoon to pack everything and eat.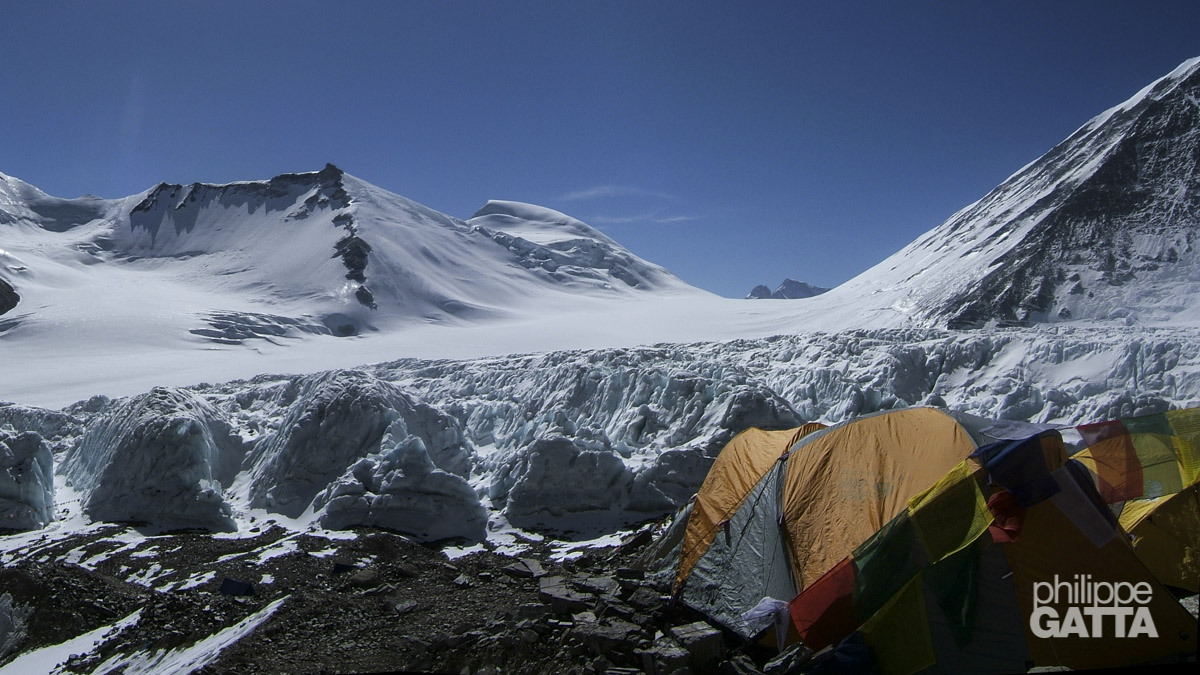 May 27-28: Base Camp (5150 m / 17,000 ft) - Zanghmu (2300 m / 7,545') - Katmandu
The travel from the base camp to Katmandu along the Friendship highway is quite an adventure. Actually I wouldn't call it a highway, not even a road but fortunately the scenery compensate for the lack of comfort. In total it takes 14 hours with a 4 wheels drive to reach Katmandu. As far as the hotel in Zanghmu goes, I would give it less stars than my tent in base camp, but at least there is a wonder…called shower. The first one in weeks.
Crossing the border between China and Nepal was my last adventure. Especially because in the rush, I forgot the Visa paper. Fortunately our representative from the Chinese Mountaineering Association did a great job with the Chinese immigration and spared me few years of "extended trip" in China…