174 KM WINTER ULTRA-TRAIL, UK
About the Spine Challenger and the Spine Race
Every year in January, two non-stop, Ultra-trails take place in England along the Pennine Way; the Spine Challenger with 174 km (108 miles) and the Spine Race with 430 km (268 miles).
Both races start in the small village of Edale in the Peak District. They follow the Pennine Way, a National Trail in England, crossing a wide variety of terrains: good trail, slabs, mud, snow, ice, fells, peat bogs, hundreds of gates, stiles and bridges.
The Spine Challenger ends in Hawes, while the full Race ends at Kirk Yetholm, close to the Scottish border. There is one check point (CP) for the Challenger at Hebden Bridge and four more check points for the full race at Hawes (finish for Challenger), Middleton in Teesdale, Alston and Bellingham.
Runners can stop at each check point to warm-up rest, eat, shower and get medical support if needed. Outside the check points, runners must be self sufficient carrying enough clothes, food, water and safety kit to face the rough weather conditions of England in winter. For safety reasons, runners also have to carry a bivy/tent, sleeping bag, stove and enough food for at least two days.
The Spine team, volunteers and medical team are great and highly available. They do an amazing job throughout the race but runners must be prepared for a tough race with less support, less food stations and less trail marks than in many other ultra-trails in Europe. That is the spirit of this race and competitors should keep that in mind.
In addition to the length of the races, the elevation gain (+5,400 meter for the Challenger) and the difficult terrain, runners have to face two other challenges; the weather which is quit rough at this time of the year, with strong wind, sub-zero temperatures, snow and ice.
Last but not least, orienting is also challenging, especially during the 15 hours of night, so runners must be very familiar with maps, compass and GPS. Fortunately runners are allowed to have a support team.
All competitors arrived in Edale the day before the race. There are several lodging places in Edale, including YHA and hotels. There are also some nice pubs. On the Friday afternoon we checked-in, reviewed the kit, had some lecture and the race briefing. The race started the Saturday morning at 8am.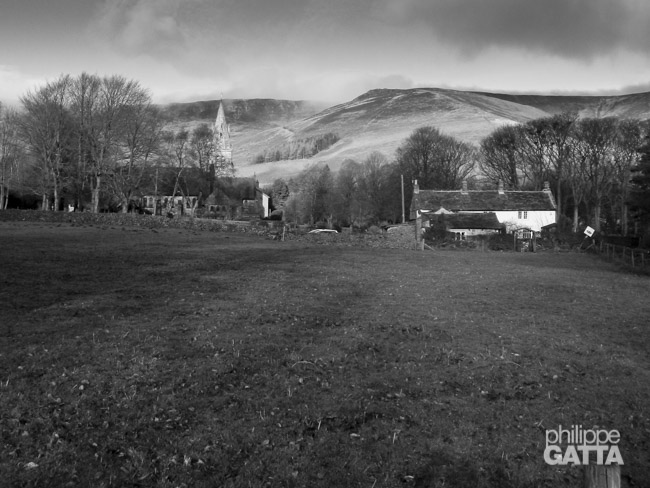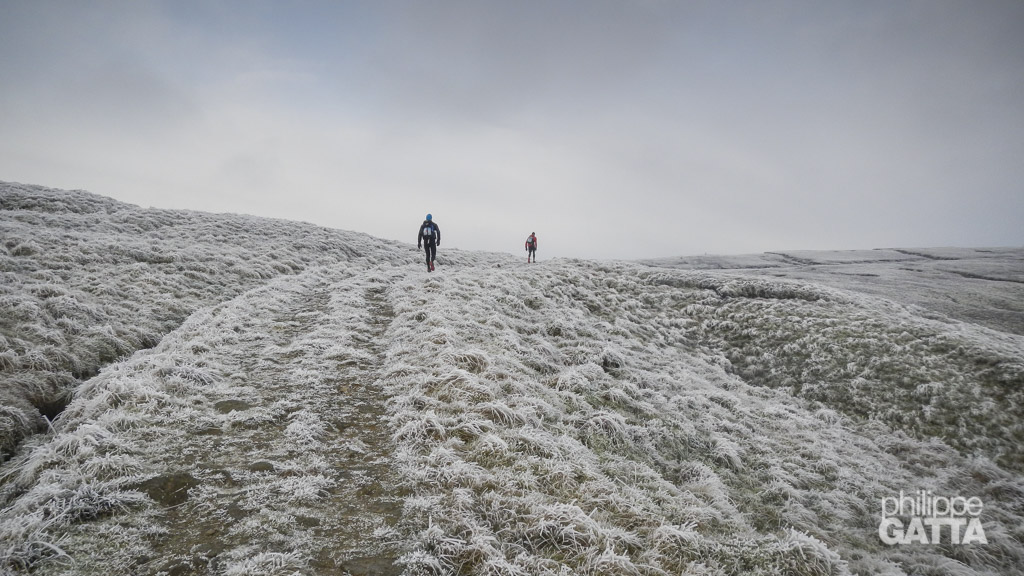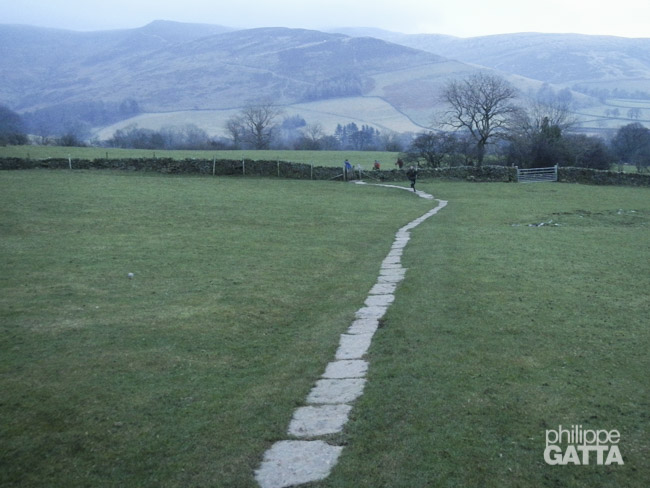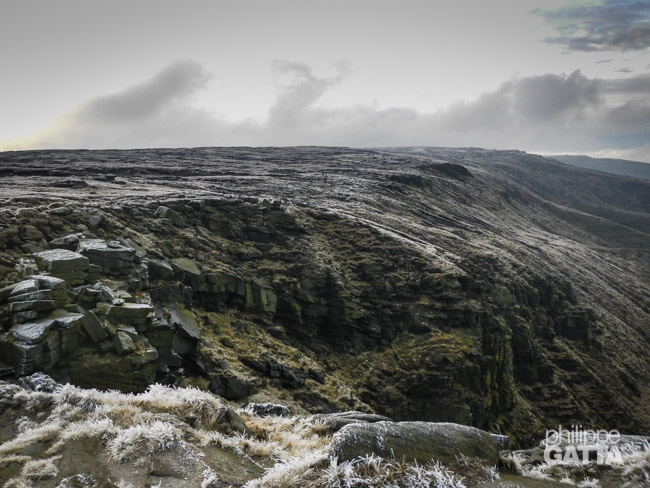 The Spine Challenger report
Edale to Hebden Bridge (CP1): 72 km and +2,450 m
We began the race on Saturday morning at 8am as scheduled. The weather was fairly decent, with cloudy skies and a temperature of -2°C, and it wasn't raining. Additionally, visibility was quite good.
As we approached the ridge of Kinder Low, the wind intensified, with gusts reaching speeds of 70km/h. Despite this, the area offered breathtaking views, with white frost covering the ground and dark clouds looming in the sky.
After passing Mill Hill, I encountered my first experience with the slabs. Running on these ice-covered slabs caused me to fall a few times. Nevertheless, I could not fathom running through the moss and swampy terrain.
We stopped at Snake Road for race control before continuing on to Bleaklow Head. Fortunately, the freezing temperatures caused the mud to freeze, so I did not have to run through deep mud and water. Despite this, the terrain was rough and uneven, reminding me of the salt flats of Atacama.
Although I made a few navigation mistakes after Bleaklow Head, the trail to Torside Reservoir was mostly good. I met up with Mike around Torside Reservoir, and we ran together for a few kilometers.
I started feeling exhausted after Crowden and struggled along the ridge of Laddow Rocks. The trail was narrow, and the wind was intense, making it difficult to run. It was mentally challenging to feel tired after only 30 km, with 140 km still left to go.
I ate more food, which helped me regain some energy. The wind was still strong, but the sky cleared up. The section around Wesseden Reservoir, Black Moss Reservoir, and Millstones Edge was easier and more enjoyable to run. Meeting up with Euan and Mike again was great.
I joined Gary and Steve near the M62, and it got dark as we passed Warland Reservoir. I left them just before Stoodley Pike and hesitated a bit while crossing some fields. Eventually, I found the correct trail down to Hebden Bridge.
Unfortunately, it was not easy to reach Checkpoint 1 as there was a steep 200m climb, and I got lost several times. I finally met Euan, and we reached CP1 together at 7:39 pm, only 10 minutes behind schedule, which wasn't too bad. Overall, I wasn't too tired, and my feet were in pretty good shape.
After spending 1 hour and 15 minutes at the CP, consuming Chili Con Carne and muffins in large quantities, I drank half a bottle of orange juice that turned out to be syrup. However, it provided the sugar I needed. Then I changed the strapping on my feet, put on new socks, and prepared for another 100 km.
Hebden Bridge (CP1) - Hawes (finish): 102 km and +2,925 m
Upon leaving the CP, I made some navigation errors but got back on track. Unfortunately, we had to cross a swampy area, and despite my efforts to keep my feet dry, I fell in cold water several times, which frustrated me as I knew my feet would remain wet, increasing the risk of blisters.
On the climb after Walshaw Reservoir, I joined Eugeni and Joel. The terrain was rough, icy, muddy, and wet, making it difficult to run. I have little memory of this section. Later, we met Euan at Cowling, who provided us with food and Coke. We left Cowling around 1:30 am and soon joined Andy.
As the temperatures dropped, I realized that I had forgotten one of my top layers in my bag at CP1. Due to the rough terrain, we could not run much, and I began to feel cold without enough clothes.
Our progress was sluggish, so I kept eating and drinking to avoid hypoglycemia and hypothermia. Progressing through 15 hours of darkness is tedious, and it is not enjoyable due to the slow pace, the cold, the lack of sleep, and the fatigue from 16 hours of racing. As a result, we were in a zombie-like state. After sunrise, we finally arrived at Malham, almost 3 hours behind schedule. Julie generously gave us water and food before we left for Malham Cove.
Eugeni and I went in the wrong direction, heading West instead of East, after Malham Cove. This mistake added another 500 meters to our journey. However, being behind schedule allowed us to enjoy the scenery, which was a pleasant change after 15 hours of night. Although the temperatures rose a little, the wind subsided, and the sky cleared, it did not last for long.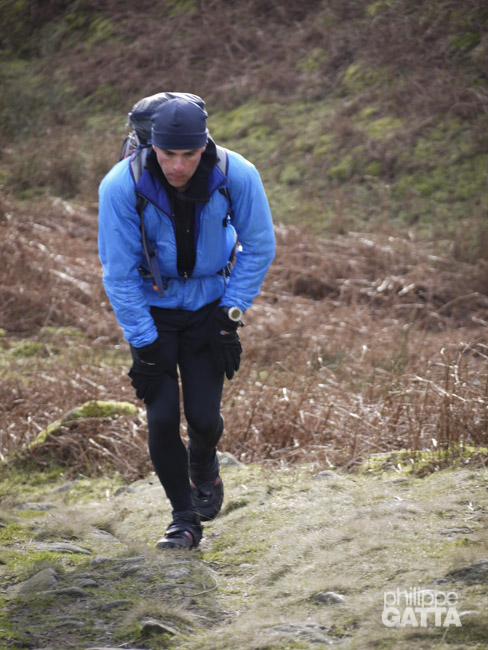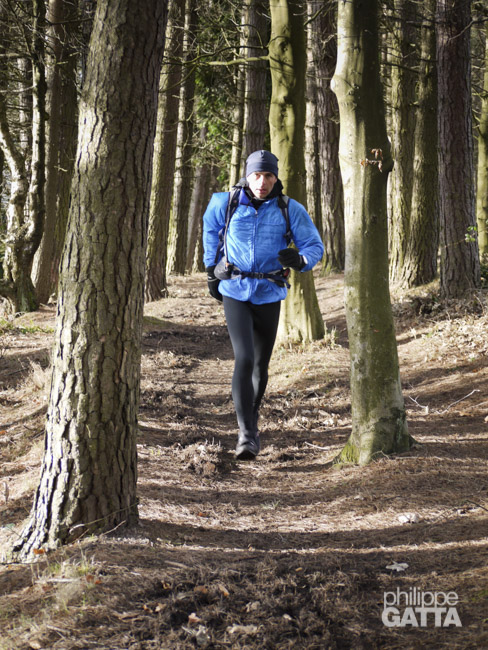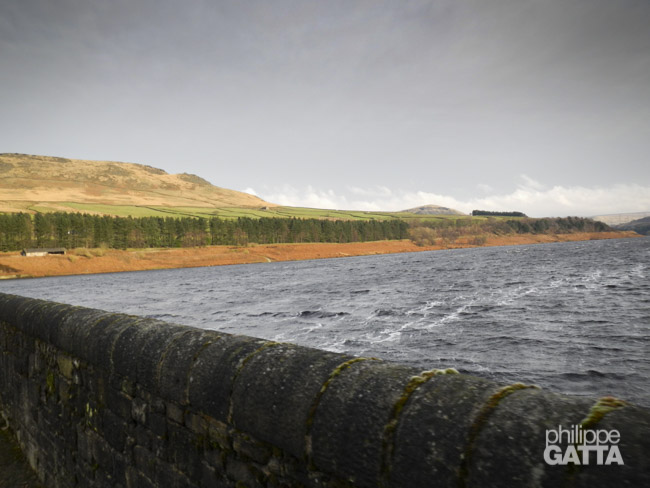 The Spine team gave us some water just before Malham Tarn. All this area is pretty nice and we could run for a while.
The clouds came back very quickly. Julie and Euan gave us some more water at Silverdale Rd and we headed toward Pen-y-ghent.
Julie and Euan told us that the front runners were not far ahead and not too fast so we started thinking that we could pass them.
It was snowing when we reached the top of Pen-y-ghent and it kept on snowing until the end. Eugeni pushed me knowing that we were not far behind the two first runners. We left Andy and Joel and both started to run faster, even uphill.
28 hours of non-stop race does not help to get smarter and we all forgot that we have been told at the briefing that we could skip Horton in Ribblesdale. We followed the "old" trail and ran 4.2 km for nothing…
We passed one runner and I kept running while Eugeni slowed down a bit knowing that he still had 256km to go. What he did was impressive and helped me tremendously. I took the lead just 4 km from the end and ran as fast as I could in the descent to Hawes.
I lost some time to find my way to Hawes but passed finish line in first place after 32h18 of race, 4 hours less than the previous race record. Many thanks to Mike, Euan and Julie for their great support along the race. Mark arrived 16 minutes later followed by Eugeni who eventually won the full version of the Race in 5 days, 4 hours and 52 minutes, setting a new record too, impressive!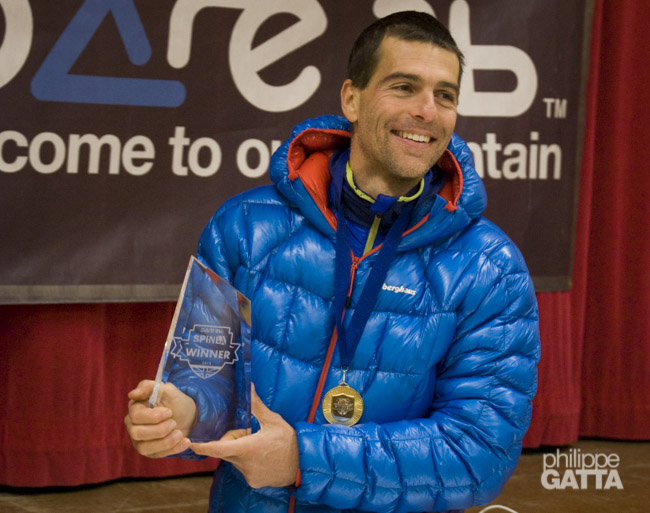 I passed finish line in first place after 32h18 of race
Spine Challenger 2013 Results
The top 5:
1. Philippe Gatta: 32h18m
2. Mark Caldwell: 32h34m
3. Gary Warmington and Stephen Thompson: 37h09m
5. Guido Huwiler and Eamonn Chapman: 52h:26m

More information and the complete results are available on The Spine Race web site.
Spine: toward Bleaklow Head (© P. Gatta)
Spine: Black Moss reservoir (© P. Gatta)
Philippe running on Silverdale Rd (© Euan Bruce)
Eugeni and Philippe running down from Mountains Fell (© Euan Bruce)
Andy climbing Pen-y-ghent (© P. Gatta)
Eugeni, Joel and a fan (© P. Gatta)