Sahara Race
250 km running race in the Sahara, Egypt


Sahara Race: 250 km running race in Egypt (© P. Gatta)
The Sahara Race
The
Sahara Race
is a 250 km (155 miles) running race which takes place in the
Sahara desert
, 130 km Southwest of
Cairo
, Egypt. There are 6-stages in 7 days: almost 4 Marathons in 4 days, then 86 km, a rest day and a final short stage of 2 km.
The race is self-supported which means the competitors must carry all our clothes, sleeping bag, mandatory equipment, medical/safety kit and 7 days of food (at least 14,000 calories), the race organizer only provides them with water and tent for the nights. Preparing the kit and the pack is part of the challenge as it should weigh less than 10 kg, including the food. The choice of food is critical, in term of quality, quantity and weight.
The race starts at the lakes of
Faiyum
in the
Wadi El Rayan
area, then goes South across dunes. It crosses the
Valley of Whales
(Wadi Al-Hitan) and finishes at the
Pyramids of Giza
. Competitors run on every kind of sand: soft, hard-packed and sand dunes.
The temperatures is also a difficulty to consider as it can reach as high as 50°C in the day but can be cold during the night.
The concept and difficulty of the race is very similar to the
Marathon des Sables
and all 4 Deserts races organized by RacingThePlanet: the
Sahara Race
, the
Gobi March
, the
Atacama Crossing
,
Jordan
,
Madagascar
and the
Last Desert
in Antarctica.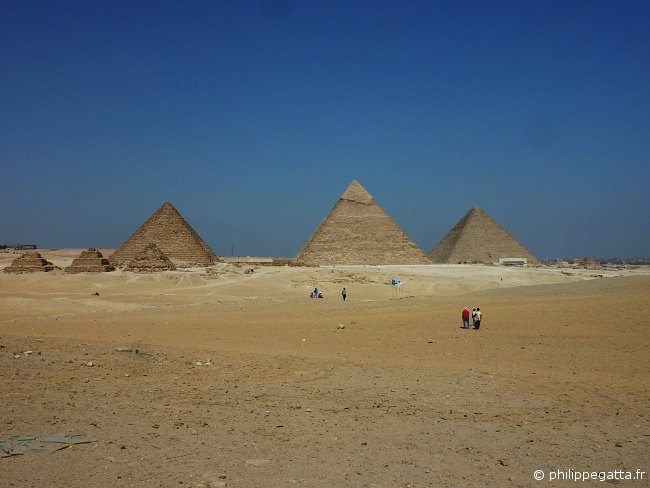 The last stage of Sahara Race at Giza Pyramids (© P. Gatta)
Video of the Sahara Race 2011
Video of the Sahara Race 2011 (© P. Gatta)
Itinerary of Sahara Race
The
Sahara Race
lasts 10 days. First day: the competitors travel from their home country to
Cairo
, Egypt. The second day there is a briefing, check-in and the drive to the first camp. Third to 9th day: race. Last days: award ceremony and return flight.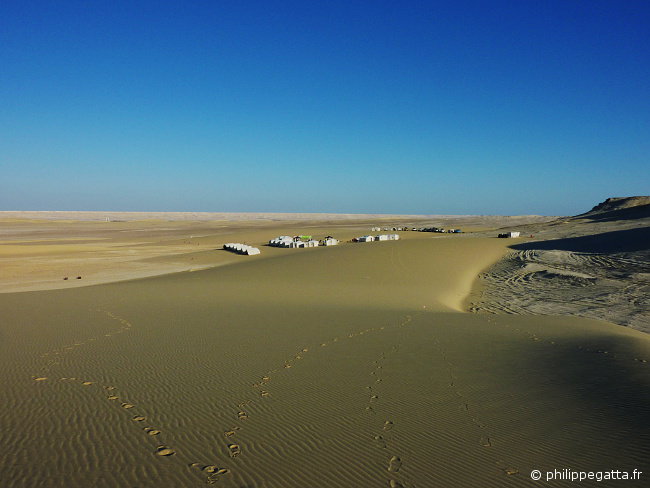 Camp 3 of the Sahara Race (© P. Gatta)
The Sahara Race 2011
October 1: Briefing and transfer to Camp 1
All competitors arrived yesterday, we were around 150 coming from 30+ different countries. This year there were many runners from Asia with a great representation from Taiwan, Japan and Korea.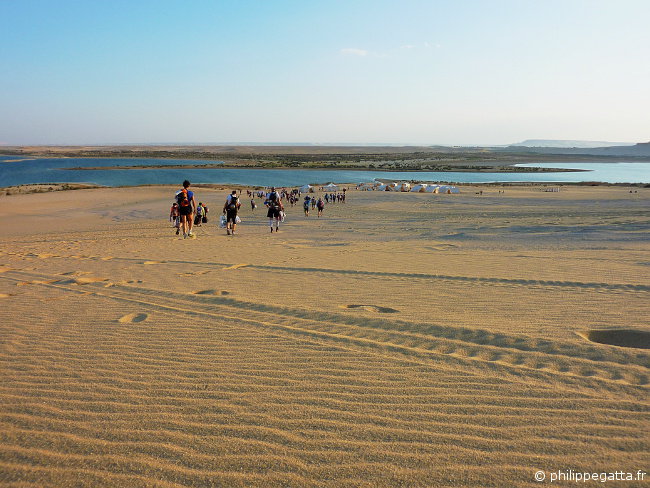 Arriving at camp 1 (© P. Gatta)
We had a massive breakfast this morning, enjoying the comfort of a luxury hotel before leaving for 7 rough days. Starting this night and until the next Saturday, we will eat only the dried food that we carry in our pack, we will sleep in sleeping bags straight on the sand of
Sahara desert
and won't have a drop of water to wash ourselves. We carry everything in our pack, and mine weights 7.9 kg, including 4.5 kg of food (22,000 calories).
As usual before this kind of race, there is a special atmosphere today, made of excitement, anxiety, joy and doubts. All runners meet each others in a friendly atmosphere, there will be a real competition in the sand but there is also strong solidarity, respect and friendship among the competitors as we are all sure about one thing: we all are going to suffer at some point.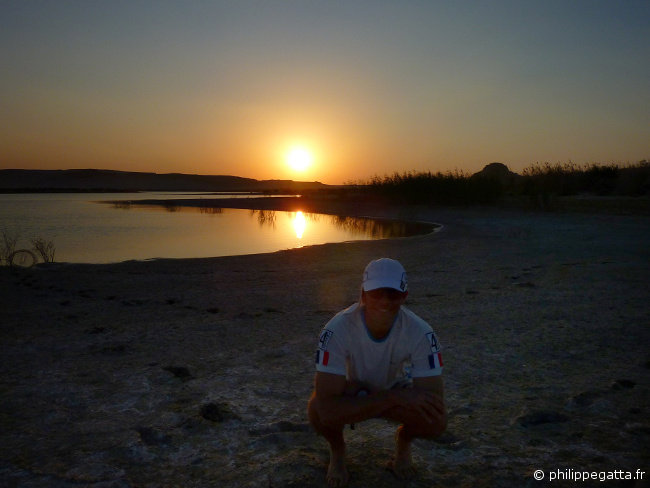 Philippe at camp 1 (© P. Gatta)
This morning we had the briefing, gear and medical checking. We are leaving at 1pm to the camp 1 that is along the Lower lake of
Wadi El Rayan
with sand dunes behind. It is about 3.5 hours drive from
Cairo
.
The race starts tomorrow with a 37km stage.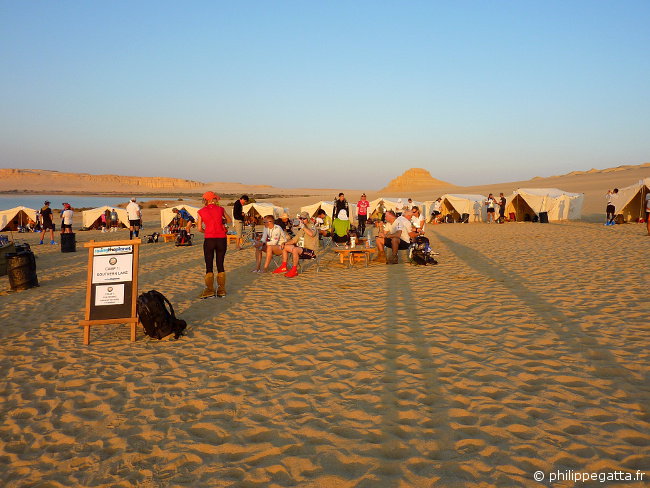 Sunrise at camp 1 (© P. Gatta)
October 2, Stage 1: Around the lakes of Wadi El Rayan - 37.4 km
Yesterday night was nice, the camp was beautiful just a few meters away from the South of
Al Fayyum
lake. The temperature after 5pm was pleasant and the night was fresh without being cold. The light sleeping bag was enough. I slept okay even though the sand get packed after a while so it was not so comfortable and noisy.
We woke up at 4:45am to get enough time to eat, get ready, listen to the briefing and started running at 7am. I ran from the start at 11-12 km/h until the second check-point. I was 6th from the beginning and kept this rank up to the end.
After the second check-point it started to be hot (42°C) and I had to slow down, a bit stressed to be caught-up by the people just behind me. I walked the last 3 km as I started to overheat... The last few kilometers have been tough for everyone, the sand was a bit softer with black and hot rocks, but as everyone suffered and slowed down, I kept my ranking until the end.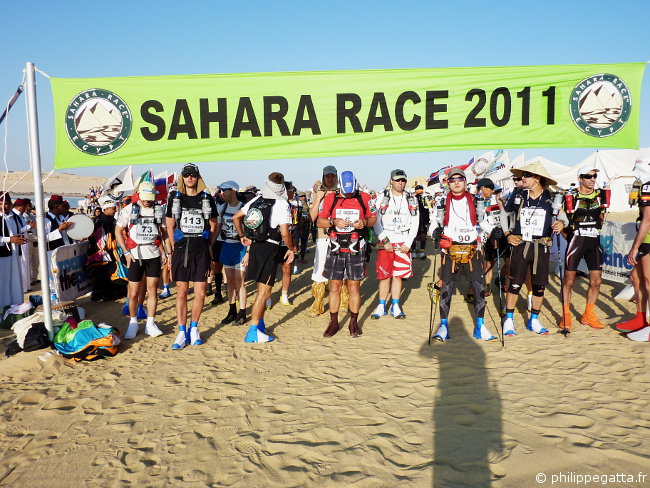 Starting line, stage 1 (© P. Gatta)
Overall the stage was made of hard sand with only a short soft section and almost no dunes. It was very nice, a real desert, vast with some nice and changing scenery. I found it really hard to run all the way and continuously pushing for the ranking. When running, it is also harder to eat so it was really time to pass the finishing line. To make things harder we could not see the camp until the last 300m. I arrived at 11:20am and the temperature continued to raise, it was very hot in the tent and I thought about the runners still out there suffering in the sun.
At 3:40pm only 89 runners had arrived at the camp...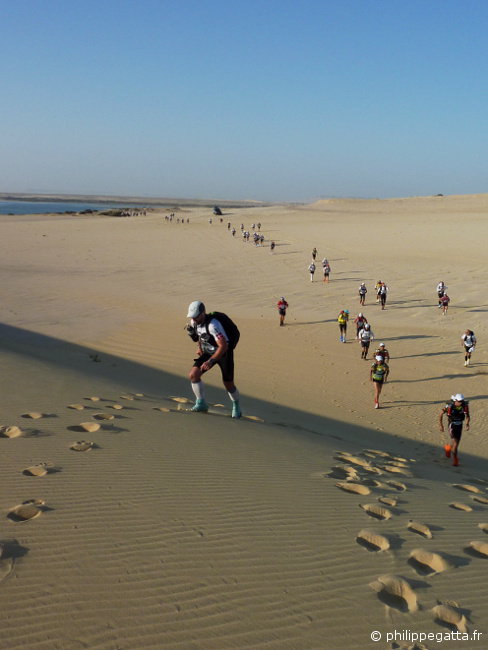 Stage 1: the first dune (© P. Gatta)
My pack was too heavy, almost 10 kg with the water, that was too much. No injuries so far, but still a pain under the left foot that I brought with me from too much training at home...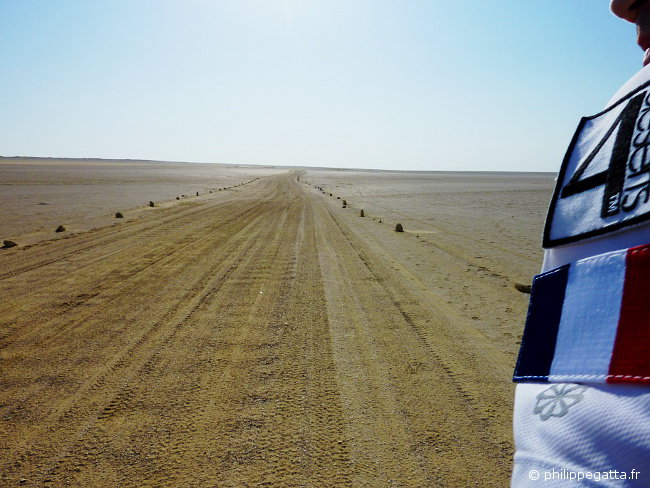 Stage 1: close to check point 2 (© P. Gatta)
The
Suunto t6d
helped a lot, first the foot POD gives the distance which helps to manage the stage. Then I also check the heart rate to avoid pushing too hard. Overall I burned 3850 calories just while running.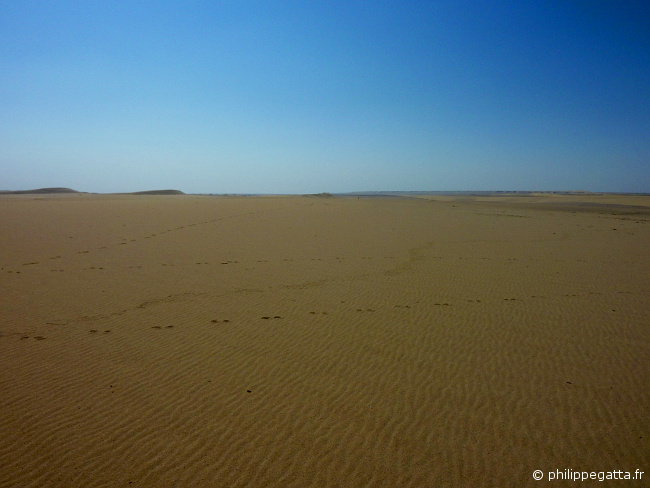 Stage 1 (© P. Gatta)
Tomorrow will be different: 11 km of relatively hard sand then 31 km of dunes!
Eric LaHaie and Dan Parr won this stage in 3h10, I finished 6th in 4h12 and the last one finished in 10h37.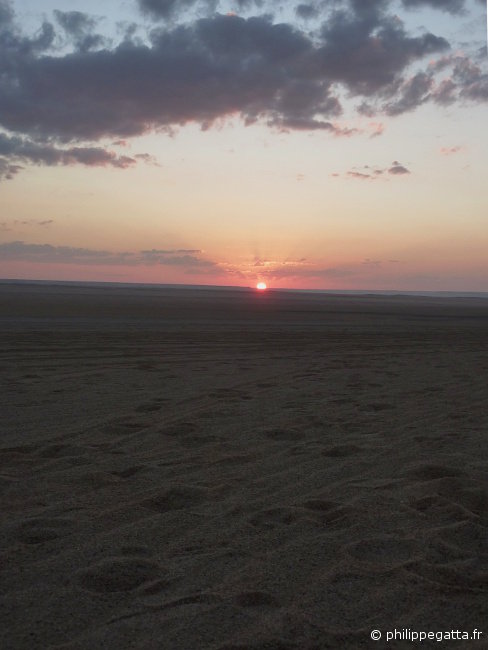 Sunset at camp 2 (© P. Gatta)
October 3, stage 2: "Sandy Horizons" - 41.6 km
I had a hard time to finish yesterday but I recover rather well and I slept more or less okay. The good thing with having lots of food, even though it's heavy, is that I can eat a lot. We got up at 5am this morning, just before the sunrise, had breakfast, some rest, listened to the briefing and started the stage at 7am as planned.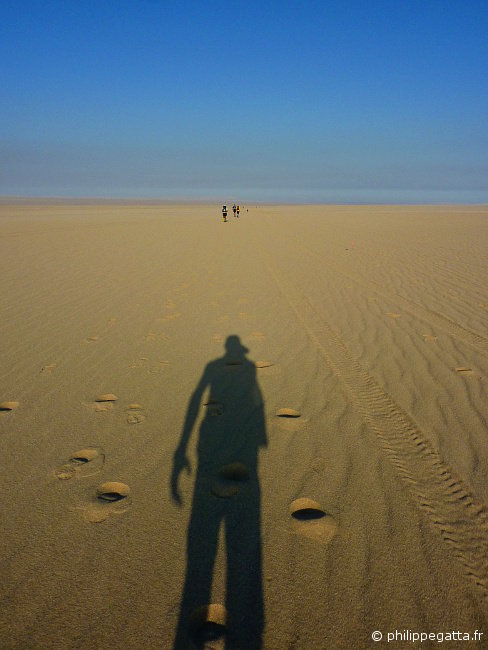 Right after the start of the stage 2 (© P. Gatta)
The first 11 km were on hard-packed sand with big dunes on the right. Then we came into the dunes and progressively climbed to a plateau. The section on top of the plateau was a bit more difficult with lot of small rocks.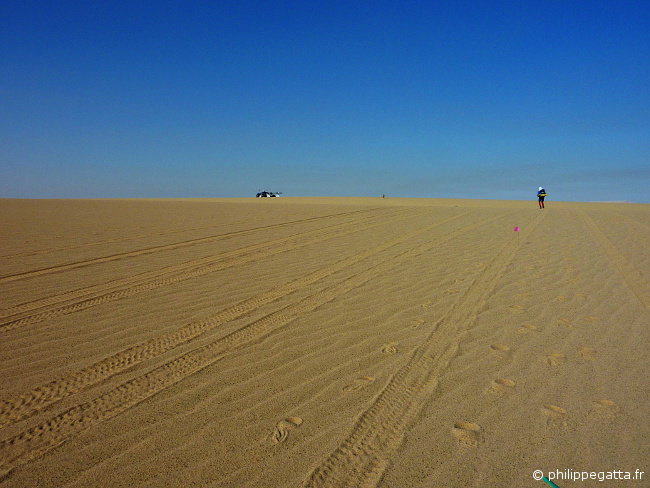 Check point 2 in the distance (© P. Gatta)
Then we reached the last check-point, still on the plateau. From there, we ran downhill, passed along a monastery and climbed a few more dunes up to the camp.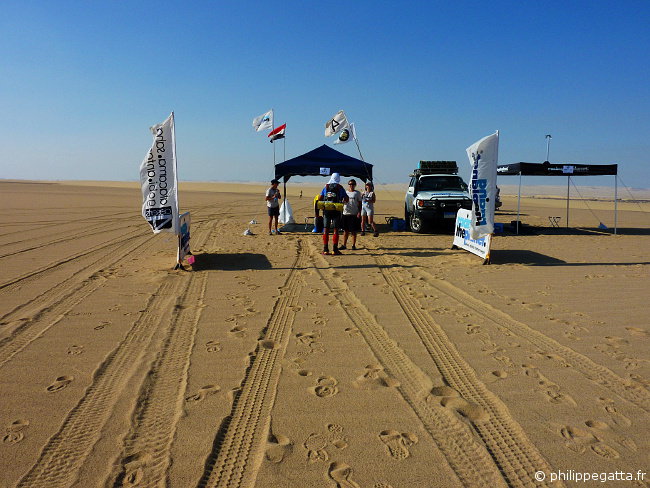 Stage 2: check point 2 (© P. Gatta)
I managed the race better than yesterday, started a bit slower and ate much more throughout the race. I drank more too, almost 6 liters just during the race! I was 8th for a while, then I passed three runners to finish 5th, just after Olivier (France), who was roughly 1km in front of me most of the stage. He was the only runner I saw for almost three hours. I got a little low before and right after the last checkpoint but could finish well. I felt better than yesterday, even though the stage lasted 1h10 more. It was tougher, with more soft sand and dunes and some ascent (+450m), somehow I preferred because that slowed down every one. Finally the sand has been a bit more packed than expected which was good too.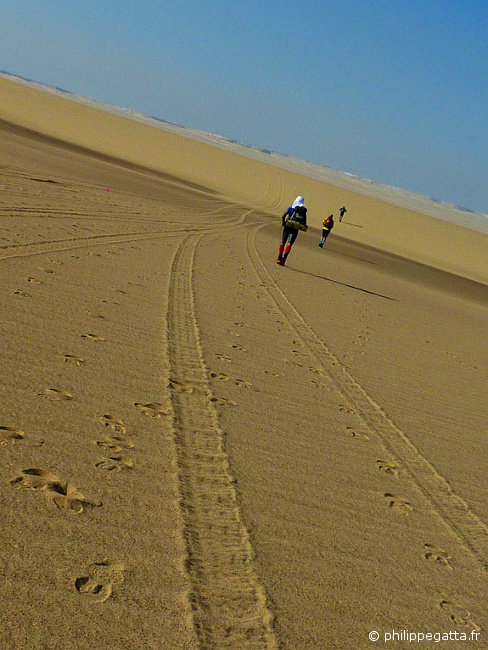 Stage 2 of the Sahara Race (© P. Gatta)
The scenery was absolutely amazing, dunes and sand as far as the eyes can see, then we climbed up on a plateau with a gorgeous view. This camp was also nicer, it was on top of a hill with a great view. We could see the runners approaching far away in the distance as small black dots in a sea of sand.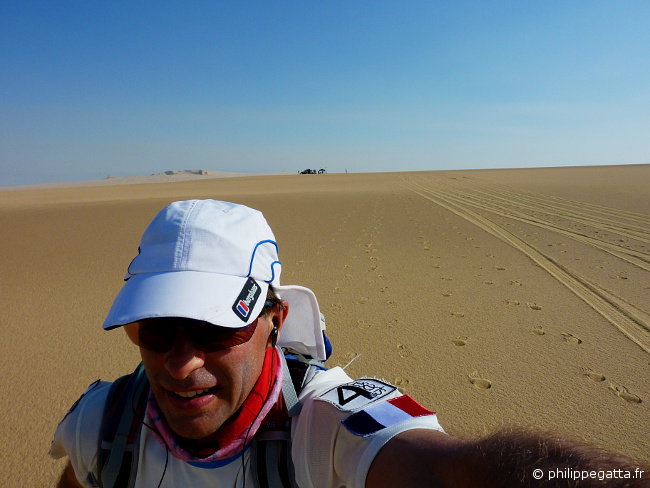 Philippe in stage 2 (© P. Gatta)
Once again arriving early was good, getting plenty of time to eat, rest, take care of the blisters, write emails...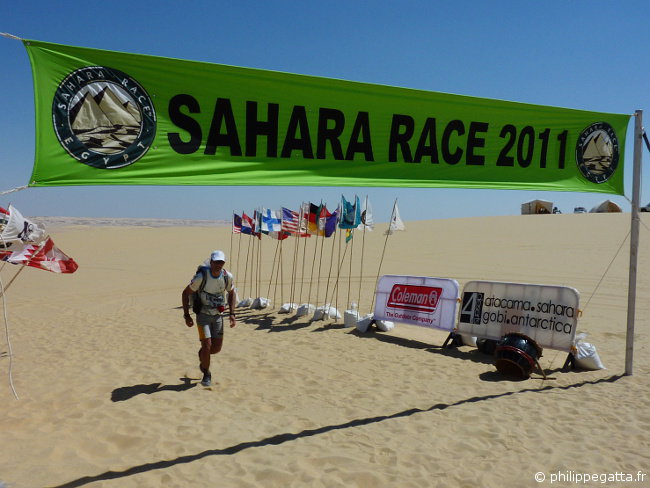 Sahara race: stage 2 finish line (© P. Gatta)
Dan Parr won this stage in 4h07, Eric LaHaie came second and Mehmet Danis third, Olivier Thiriet fourth and me fifth in 5h31. The last one finished in 12h02.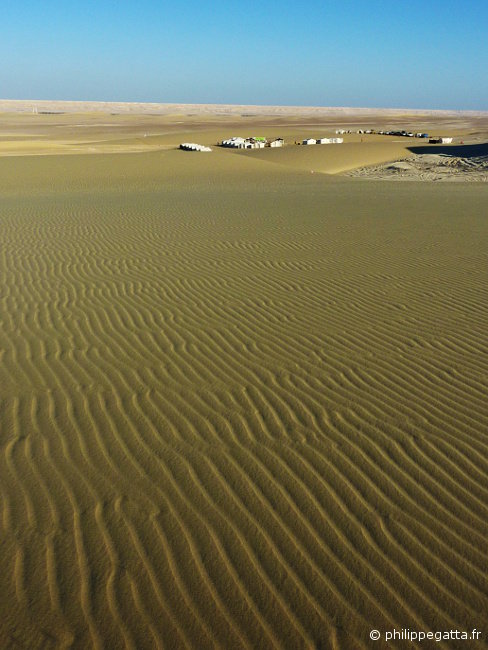 Sahara race: camp 3 (© P. Gatta)
October 4, stage 3: "Trough the Sand Valley" - 42.6 km
The stage 3 started in the dunes and went through some soft sand on the first half. Then it crossed a tough section with some patches of soft sand, dark rocks before climbing to a plateau where the check-point 3 was located. After check-point 3 the trail went down and continued on harder sand up to the camp.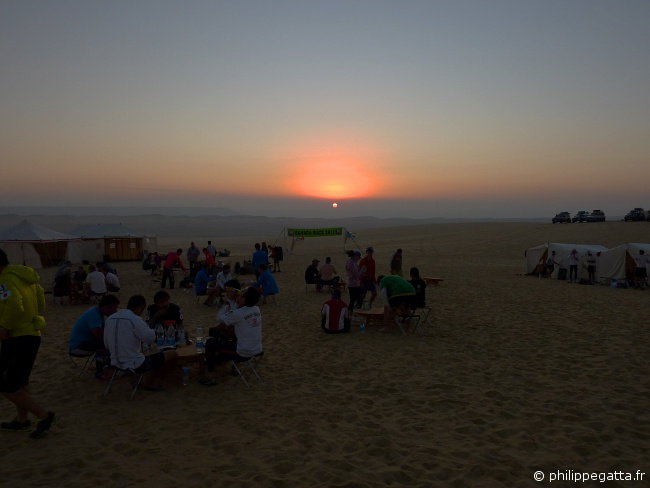 Sahara race: sunrise on the camp 3 (© P. Gatta)
This day was tough, it started out well with very nice scenery again in the dunes. I joined Olivier and ran with him for a while. Then Jude, another French, caught us and we ran the three of us for a while, having 3 Frenchies in the top 6. I made the first half in just 2h30 and felt quite well. At some point I was even 4th, then Jude accelerated, followed by Olivier but unfortunately I could not keep up with them. Then there was a long, very hot section with soft sand between check point 3 and 4 where I started to suffer. I was struggling and three more runners passed me in the last 9 km. I tried to follow them but I could not which was very bad for the mental, frustrating and exhausting.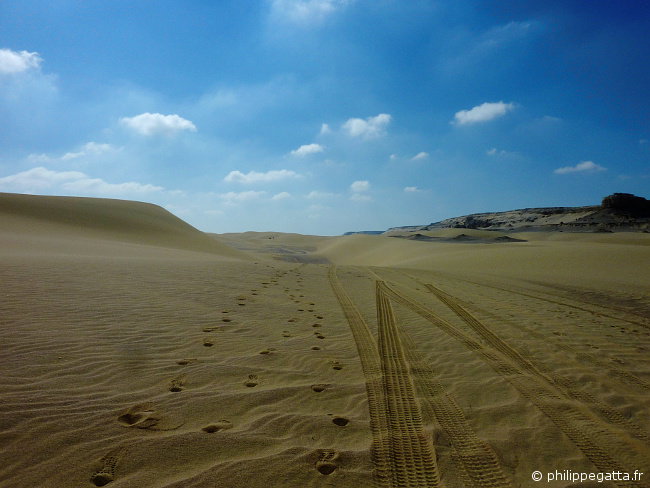 Between check point 2 and 3 (© P. Gatta)
These last three days, the last few kilometers have always been painful, especially when running out of juice and having to fight for the ranking. Anyway I made it, finishing 7th of this stage and 5th overall.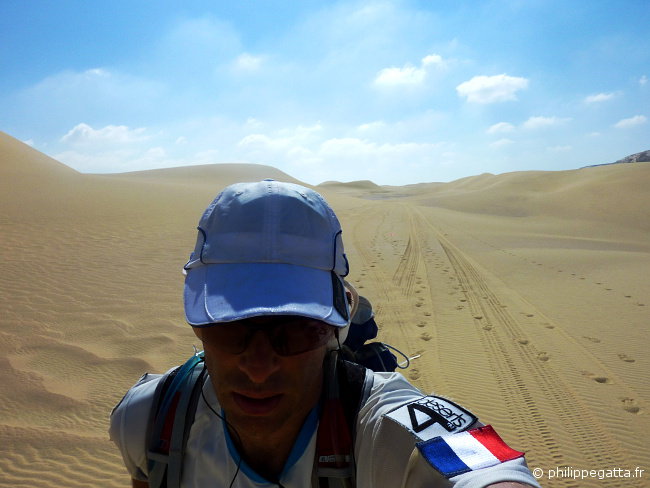 Running in the dunes toward check point 3 (© P. Gatta)
Yesterday's blisters healed but I got two new big ones, no major disaster at this point but it is a bit painful. I saw the doctor regarding the pain under my left foot and he thinks it is a tendinitis of the Achilles tendon at its insertion with the bones, he gave me some anti inflammatory. No big concern for the moment but I got to watch it carefully and it is another pain to handle.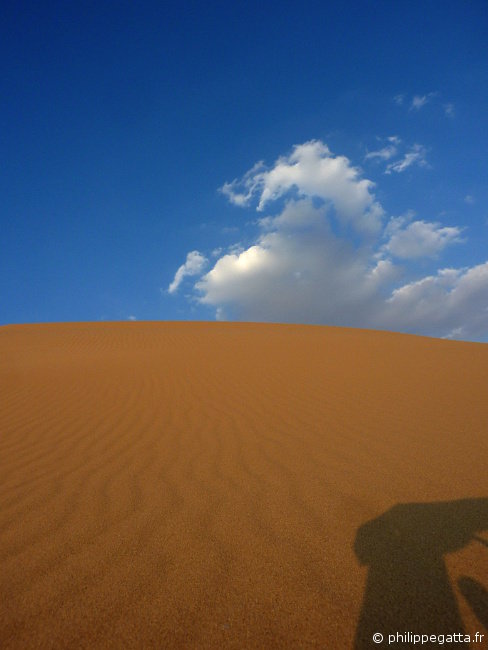 Sahara race: amazing dunes (© P. Gatta)
Good thing is - I feel better and better, especially regarding the heat. The
Suunto
works perfectly and knowing the distance with the foot POD really helps to manage the pace, water and food.
Today I burned 4000 calories just during the stage, with 1800 additional calories necessary for the normal body consumption for the rest of the day, I am way behind (as I brought 3700/per day) but that's okay. The other good thing is finishing early leave me plenty of time to rest, eat, send email, etc. This is not the case for all runners and I admire the ones finishing late; the last ones came after 7pm yesterday! More than 12 hours on the trail!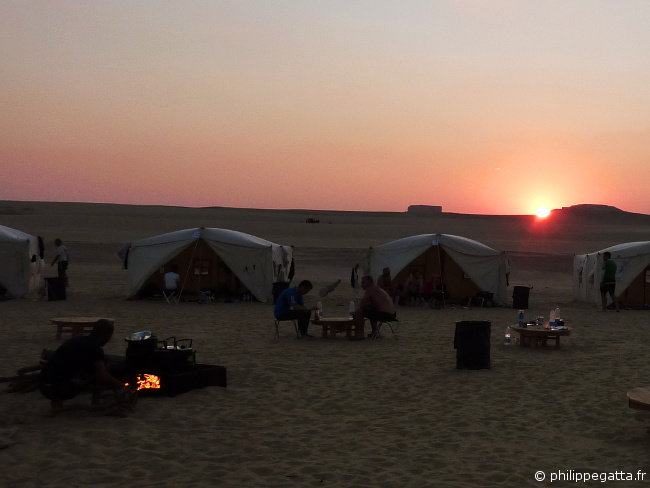 Sunset on the camp (© P. Gatta)
Tomorrow we have our 4th marathon in row. It is supposed to be easier with more packed sand and less dunes. Unfortunately that means faster pace in front of the race, no rest, so tough day in perspective.
Dan Parr won this stage in 4h14, Eric LaHaie came second and Danis Mehmet third. I finished 7th 5h43. The last one finished in 11h47.
October 5, stage 4: "The Gardens of the Castel" - 40.4 km
137 competitors out of 150 took the start today.
For me, it started very badly, 50 meters after the start I could not run because of the huge blister I have on my right heal: 3cm x 2cm, and I have a few others on the toes which haven't healed during the night. We started with several kilometers of soft sand and dunes which is the worst for blisters because more sand comes in the shoes and the soft ground make the feet rolling inside the shoes, it was hell. After 1 km I was probably around 30th, with the shoes already full of sand, but I could not stop and loose 5 minutes to take them off.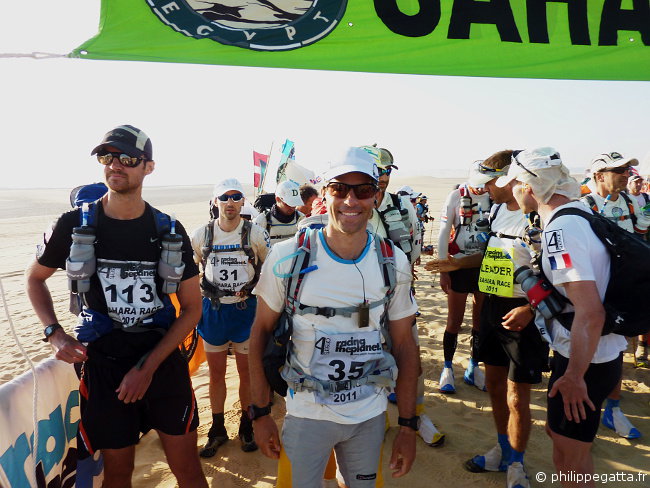 Sahara race: start of stage 4 (© P. Gatta)
After a few kilometers it became much easier, flat and packed sand so I could run again. Strangely it hurts less while running, but it is obviously more tiring.
I caught up on many people and was 8th at the first check-point with one Japanese and two French (Olivier and Jude) in sight. I caught up Olivier at check-point 2, he did not feel good so we decided to stay together, helping each other. We could not keep up with the two Japanese's that were going better and better every day but we could keep some distance with the other runners behind.
Olivier is doing the
7 Summits Challenge
so we talked mountaineering for a long time while running at 8 km/h. It helped as we forgot for a moment that we were running by 40°C!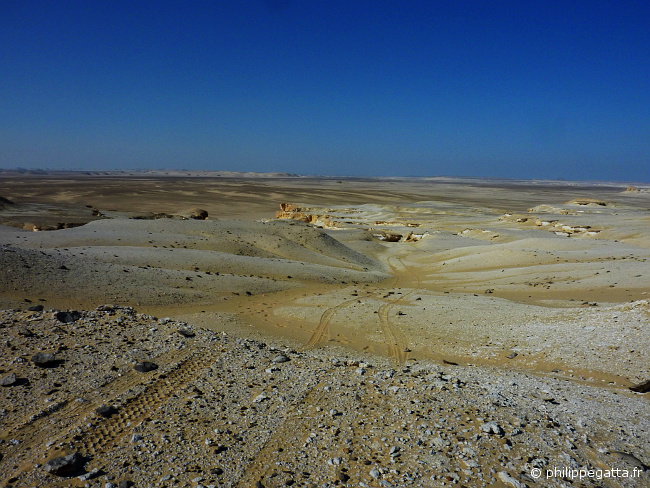 Sahara race: between check point 1 and 2 (© P. Gatta)
We finished together in 5h19, 8th, not too bad. For once the second half of the race was "easier" than the first half. We also wanted to "take it easy" today because tomorrow is the 87 km.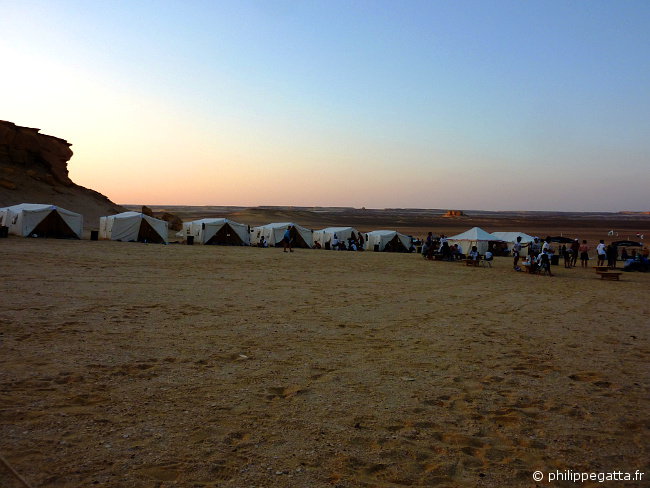 Sahara race: today's camp at sunset (© P. Gatta)
Two tent mates dropped the race, and very sadly another had an IV and had to be evacuated to Cairo.
The camps are comfortable, the views always amazing with fantastic sunset and sunrise. We also have a small luxury, we are allowed to use unfinished water bottles to wash our feet at the end of each stage! That is more or less the only thing we can wash, but knowing how we travel, that's an important one.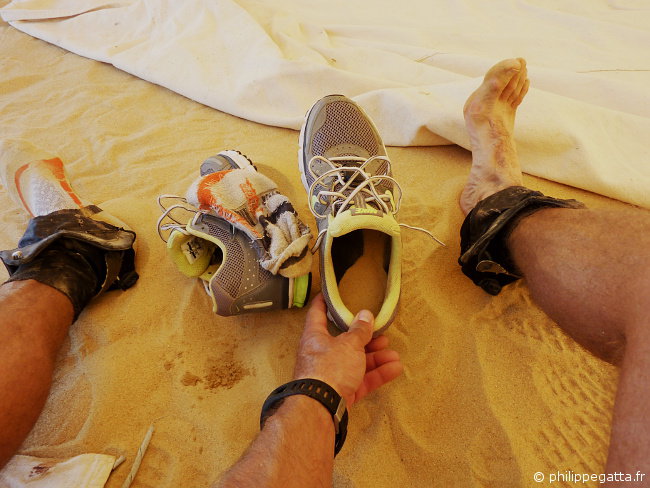 Shoes full of sand after each stage (© P. Gatta)
I probably have one of the heaviest pack around (except Frederic) but I do not regret to have brought 22,000 calories instead of the 14,000 mandatory as I eat 100% of what I planned each day. I also drink around 10 liters/day. Half during the stages and the other half before and after.
These last four stages were not "too long" so I could finish around noon and I was laid down in the tent, in the shade during the hottest time of day. While tomorrow for the long day, we will have to run two marathons back to back at the hottest time of the day...
Once again Dan Parr won this stage in 4h14, Eric LaHaie came second and Danis Mehmet third. I finished 7th in 5h19. The last one finished in 10h48.
October 6, stage 5: "The Tethis Ocean March" - 86.4 km
Today was uncertain because of my right heal and because of the pain in my muscles. I could barely walk out of my tent in the morning, so I was not sure about the strategy to adopt for this long stage. It was tempting to go fast during the three first hours before it gets to hot but I was afraid to be too tired and too slow afterwards. So I decided to start not too fast, keep a study 8 km/h and more important, not pay attention to others' pace, even the ones chasing me.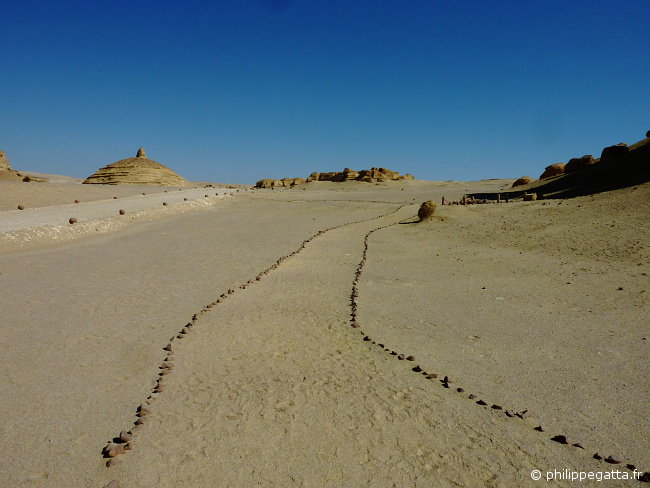 Sahara race: the valley of Whales after check point 2 (© P. Gatta)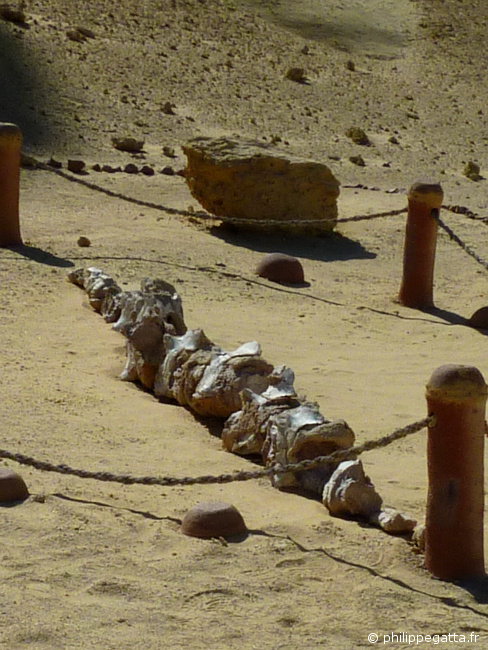 Fossils in the valley of Whales after check point 2 (© P. Gatta)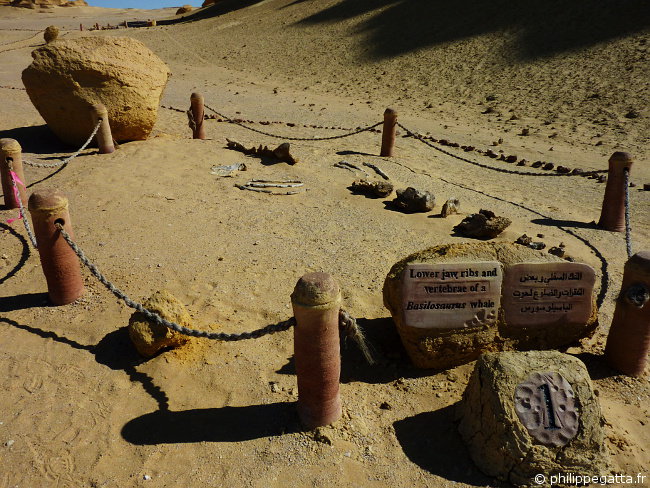 Fossils in the valley of Whales after check point 2 (© P. Gatta)
I could keep this pace (thanks again to the
Suunto
Pod) for the first 44 km or so. I had to stop at check-point 4 to change the bandage on my right foot and a doctor gave me some pain killer again.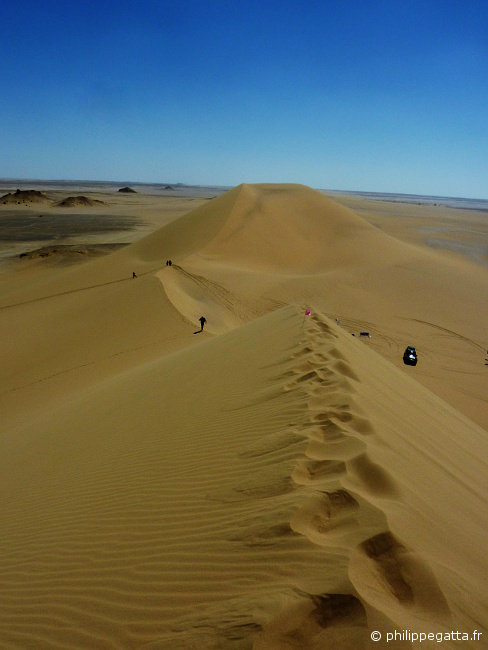 Sahara race: big dunes after check point 3 (© P. Gatta)
I was 6th already at that time, Jude was in front of me but I could not catch him. I decided to control the race to not be caught by the guys behind. Then we had a long period of strong head wind on a monotonous trail that I could not run on. When the wind finally calmed down a bit, I resumed running to keep the guys behind away.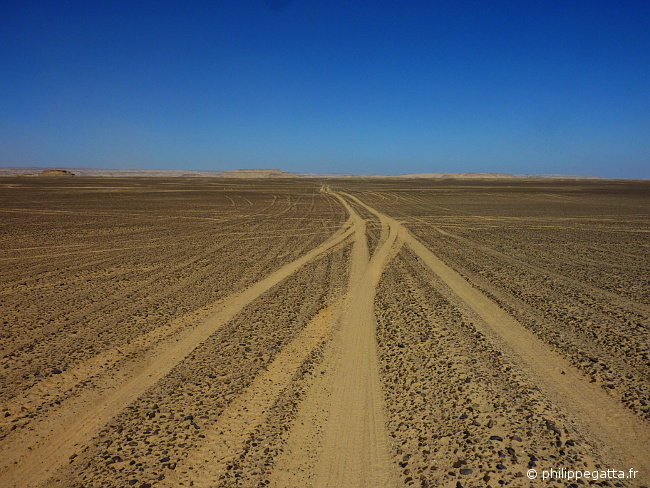 Sahara race: big dunes after check point 3 (© P. Gatta)
I finally did more than 40 km alone, arriving just after the sunset. After 12h15 of race, the first one behind me was just two minutes behind so we had to push it to the end. I am happy with this time as I could not have done much better for a 86 km.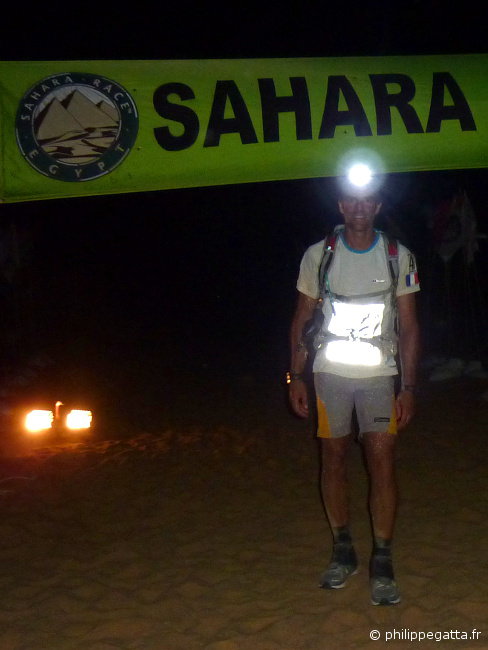 Sahara race: finish line of stage 5 (© P. Gatta)
I lost 1 rank overall, finishing 6th, one hour behind Jude and one hour in front of Shiro - this is consistent with the results of the previous stages. At the end we are three French in the top six!
Dan Parr won this stage in 9h11, Eric LaHaie came second and Danis Mehmet third. I finished 7th in 12h15. The last one finished in 27h13.
October 7: rest day
I am not too tired even the body is a bit messed up by the six marathons done in the last five days, the lack of sleep, the heat, etc. Just during the 12 hours spent on the stage 5, I burned 7200 calories, ate only a fourth of that, while drinking 10 liters...
On one side this rest day was well deserved but on the other side it was bit boring to boil in a tent doing nothing except chasing thousands of flies happy to eat rotten and wounded meat. So I spent most of the day doing Sudoku which reminded me of the long days waiting at base camp during expeditions. We also discussed a lot between runners about the different races around the world, looking for ideas and upcoming challenges.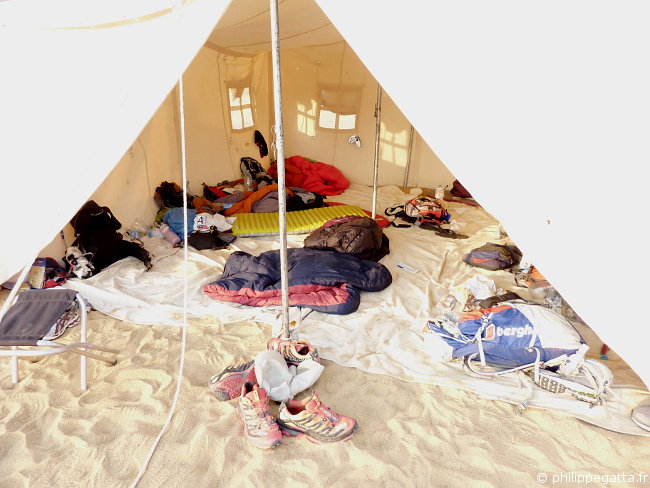 Our tent (© P. Gatta)
Tomorrow (Saturday) won't be too hard - except putting back the shoes - as we will run less than 2 km.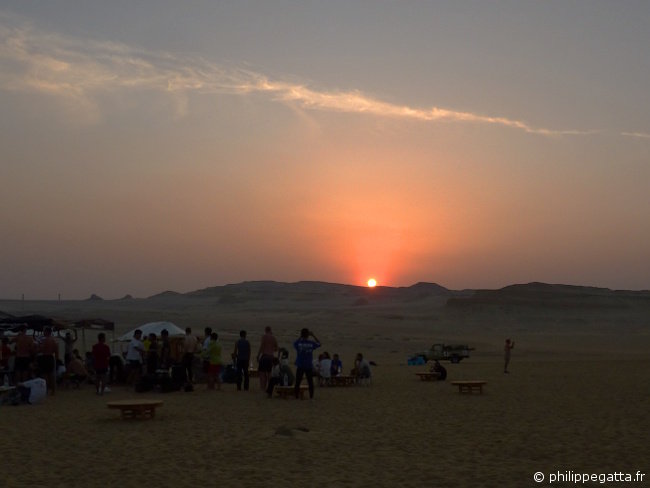 Sunset on the last camp (© P. Gatta)
October 8, stage 6: Pyramids of Giza - 2 km
We left the camp early in the morning and took a bus for 2h30 to the
pyramids of Giza
.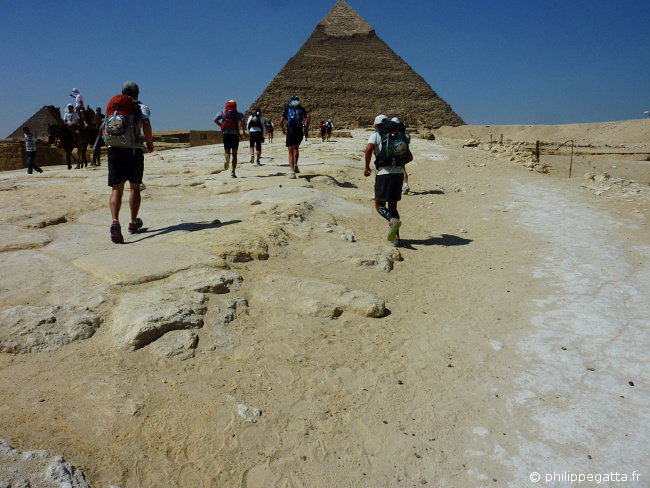 Last stage around the Giza Pyramids (© P. Gatta)
Then we ran 2 km at the bottom of the
pyramids of Giza
to pass the official finish line of this 2011
Sahara race
. Then we went to the hotel for a well deserved shower and the award ceremony.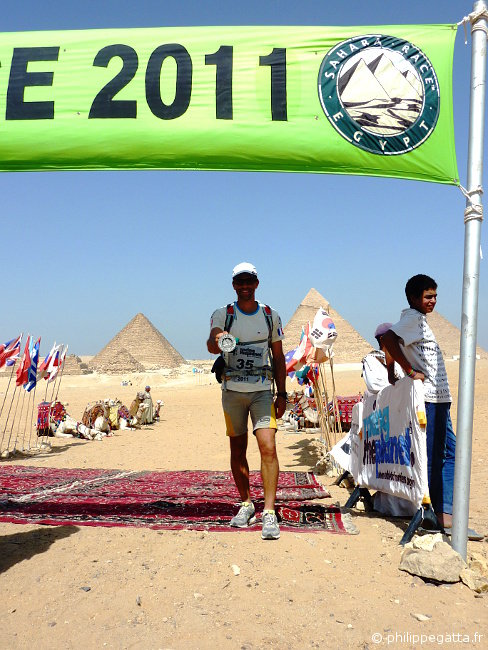 Philippe at the finish line with the Giza Pyramids behind (© P. Gatta)
Kit list for the Sahara Race
Here are the clothes, watches and food I brought for the 7 days of race:
1 Pack: Berghaus Octans 40
1 Tee-shirt: Berghaus Argentium Cool Base Crew SS
1 Tee-shirt: Berghaus Argentium Cool Base Crew LS
1 Jacket: Berghaus Rapide Jacket (GoreTex Active shell)
2 pairs of socks: Berghaus Fast Track Cushioned Sock
1Camera bag: Berghaus Dry Pocket
1 Buff: Berghaus Buff
1 Compass: Suunto Core
1 Watch, heart rate monitor, Foot POD (distance/speed): Suunto t6d running pack
1 pair of sunglass category 2-4
1 Cap
1 Tight Short
1 pair of light gaiter
1 pair of Nike Air
4.5 kg of food: 22,000 calories (16.6% of proteins, 58.3% of carb, 25.1% of fat)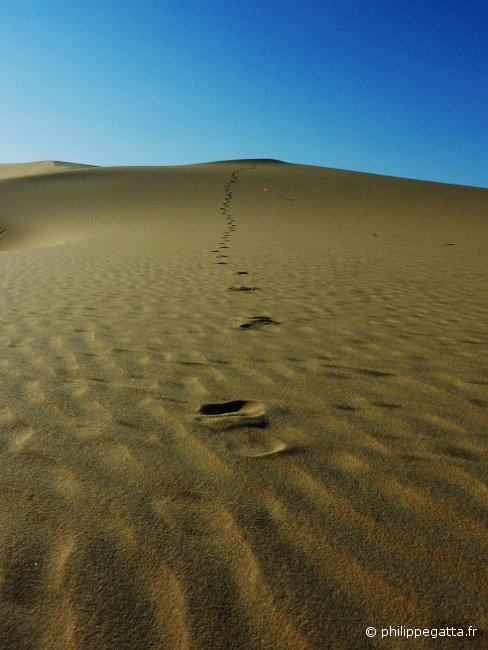 Dunes (© P. Gatta)
Sahara Race Results
Dan Parr won in 25h13, Hee Kyoung Chun -last finisher- finished in 72h14.
I finished 6th in 33h13, and 1st out 54 in my age group.


Finish line of the 21st Sahara Race (© P. Gatta)